"Home, for good and all. Home, for ever and ever." - Charles Dickens, A Christmas Carol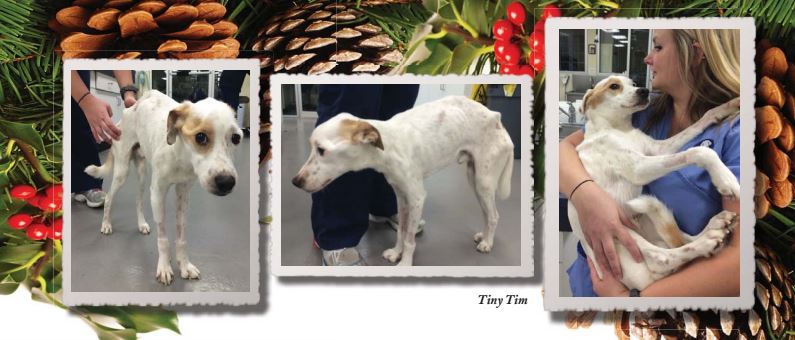 In the classic story, A Christmas Carol, the character of Tiny Tim is a shining symbol of Hope and the power of Good. A beloved little boy who, in the face of crippling hardships that threaten to end his very life, beamed forth his wish that God bless us - every one.
And so it is with our own Tiny Tim, rescued by Gwinnett Animal Control from an owner who tortured him by starvation. This emaciated dog was delivered to Russell Ridge Animal Hospital weighing just 30 pounds- only half of his normal body weight.
Little Tim could not even walk because his muscles, damaged by lack of food, simply could not support his frail body. The professionals at Russell Ridge came to his rescue, giving him small doses of food, physical therapy, and a lot of love. And through it all, Tiny Tim's tenacious spirit shone as, in his own way, he expressed gratitude for his blessings.
Now safe with Furkids, Tim continues his return to health and is learning to walk without pain. We hope Tim will be ready for adoption soon, to start a new life with a family that appreciates his extraordinary journey.
What most of us want out of life is to make a positive difference, to leave a shining mark on the world. By helping Furkids, you have the power to utterly transform a life. There are hundreds of animals out there waiting to be saved. Waiting for Tiny Tim's wish to be fulfilled – a blessing for every one.
Donate to Furkids this holiday and experience how the blessings come back to you. Any donation, no matter the amount, could mean the difference between life and death for a helpless, homeless cat or dog.
What your gift can do:
$25 pays for a heartworm or combo test
$50 will cover a neutering surgery
$75 pays for a spaying operation
$100 covers initial vetting of a cat or dog with vaccines, tests, medication, surgery, etc.

Thank you for being the way home for Furkids animals!
May you be blessed with Tiny Tim's faith, hope and will to live this season and always.

---