Furkids now has the unprecedented opportunity to expand our unique property to create a destination shelter like no other.
As part of Phase 1, Furkids has renovated the original barn from the property into The Giaquinto Event Center—a special events venue for private parties and gatherings.
Ultimately, Furkids will complete the destination with new buildings including a cat shelter, a dog shelter, a veterinary clinic, a cafe and pet boutique, a pet cemetery and memorial garden, and a building for community events.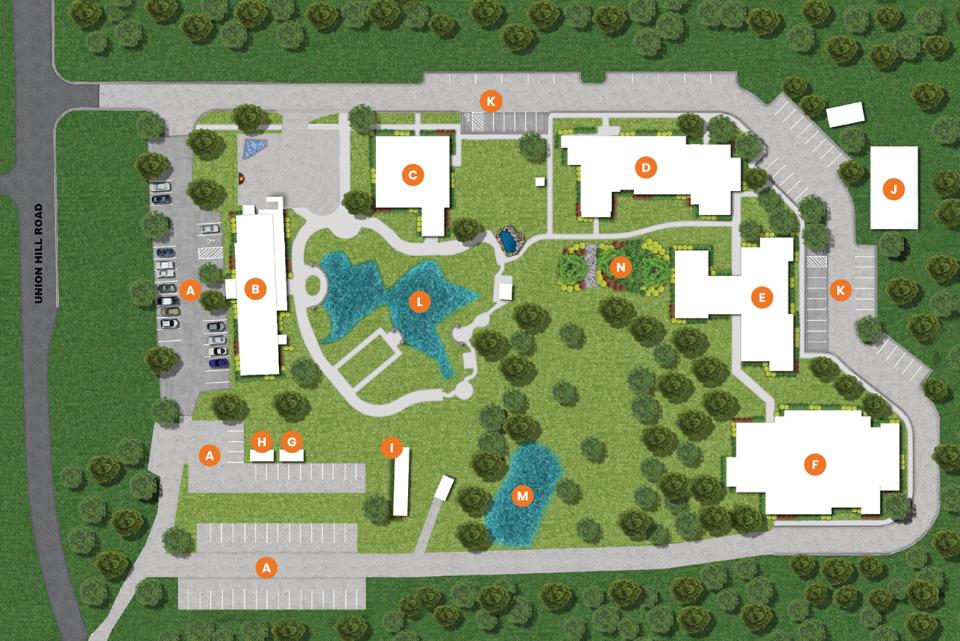 A. Existing Parking Lot
B. Administrative Building
C. Giaquinto Event Center
D. Fort & Michele Felker Cat Shelter
E. Future Medical Building
F. Future Dog Shelter
G. Existing Intake Cottage 1
H. Existing Intake Cottage 2
I. Existing Isolation Trailer
J. Future Storage
K. Future Parking Lot
L. Existing Koi Pond
M. Existing Retention Pond
N. Proposed Rain Garden
The Fort & Michele Felker Cat Shelter
The Fort & Michele Felker Cat Shelter will be 5,600 square feet with cage-free cat habitats, catios/cat porches, a large adoption room, exam room, laundry and cleaning rooms, storage, and a break room for our volunteers. The new building will have the capacity to host 200 cats. Also included will be a cat cafe, open to the public during normal operating hours that will also feature adoptable cats.
Once the Fort & Michele Felker Cat Shelter is completed, our long term resident cats will be moved there, and their current housing area in the administrative building will be converted into office space for Furkids staff.
The Dog Shelter
The new Furkids Dog Shelter will be approximately 6,000 square feet and similar in configuration to the Cat Shelter, with fenced outdoor play yards and each dog having an individual room. The new building and enhanced configuration will enable Furkids to accommodate up to 135 dogs, doubling our current lifesaving capacity, while providing additional room and a more comfortable environment for our long-term residents.
In addition, constructing the new Furkids Dog Shelter will allow us to work more efficiently by consolidating our dog and cat operations at Headquarters. Our current dog shelter (located three miles away at 1520 Union Hill Road, Alpharetta, GA 30005) will then be converted into a space for mission-supporting programs.
The Medical Building
Furkids' future plans will increase our lifesaving capabilities by constructing a state-of-the-art medical facility. Our plans for the building include:
Doubling our number of surgery tables from three to six
Incorporating five separate wards with the space to treat more than 100 individual cases at a time
Strategic space for quarantining animals based on treatment plans
Shortening hospital stays thanks to consolidated expert care
Better ability to handle emergency needs, including cases of Parvo, upper respiratory infections, panleukopenia, ringworm, and much more
Better ability to perform lifesaving surgeries
We expect our animal control intakes to increase by 50% in the first 6-12 months and 100% in the first 24 months, bringing us from 3,000 rescues from kill shelters annually to 6,000 within two years of opening the new medical building.
By providing these services, we will help ease the burden on municipal animal shelters so that we can all save more lives together.
To schedule a visit or learn more about the Destination Furkids Capital Campaign, please contact Samantha Shelton at sam@furkids.org or (770) 613-0880, ext 106.