Eat. Read. Love.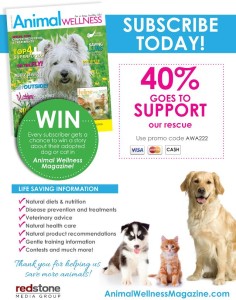 Animal Wellness magazine has joined forces with rescues and shelters across the country to give back - 40%! 
40% of each magazine subscription to Animal Wellness is donated to Furkids using our promotion code:
AWA222
!  A subscription only costs $24 and makes a wonderful gift for the animal lover in your home or office! Visit  
www.animalwellnessmagazine.com/subscribe
 to learn more.
Animal Wellness magazine features articles and tips to keep your feline or canine family members healthy with medical, nutritional and behavioral advice. 
Additionally, $3 of every cookbook purchase is donated to Furkids, too. This unique cookbook will teach you how to cook healthy and organic treats and meals for your four legged friends.  
www.animalwellnessmagazine.com/cookbook
---