Dear Santa, It's Me…Kimmie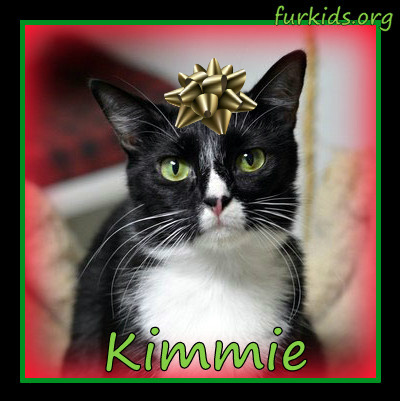 Dear Santa, It's Me...KIMMIE.I Have Been a Very Good Girl. But...

I'm still homeless, Santa. I'm not even two years old, and I've lived in two different kitty shelters for my entire life. I've never had a family of my own, even though I just love humans, and other kitties, too. I've never gotten a Christmas present. And I want just one - this one thing - with all of my heart...

Please, Santa, would you help me find a home?

I'm all dressed up, in this bow I found, it feels silly; but I hear I look "cute". I'm wearing my best tuxedo outfit, which I wear all the time...being well-dressed is, I'm told, the key to success. And my Furkids friends tell me that my adoption fee is just $12, because I'm "featured" in the Twelve Days of Christmas promotion. I don't know what that is, but I hear it's a "bargain", and humans like bargains. (During December we will featuring select cats that have been overlooked. Their adoption fees will be $12. Kimmie is the first!)

Please, Santa, can it be my turn?

I promise, Santa, if you find me a Forever Family, I will love them forever and ever. I will be cute as a button, whatever a button is...and I will never, ever ask for another Christmas present again.

Please, Santa? Can you find me a family to CLICK HERE!, and apply to adopt me?

I love you, Santa. I wish I had opposable thumbs so I could bake you cookies. Tuna-flavored cookies...
Love, Kimmie
---