TOGETHER FOREVER… Mittens and Girl are two lucky gals.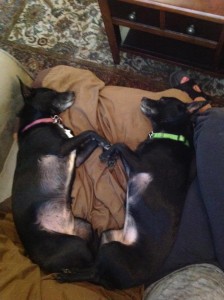 Some call it foster failure, we call it forever fostering. The Reynolds family has been wonderful! Volunteering their time and home to our animals for the past year. First they brought home Mittens (left) when we sent out a plea. She was part of a large intake we did from a person with too many animals. She was shy and scared and the Reynolds helped her. They actually fell in love with her and adopted her, but the story gets better!
A few months later her sister named Girl (right) was still in need of a foster home, so they decided to give her a break from the shelter and let them visit. Well… As you can see they never want to be separated again, so this weekend they made Girl part of their family! Congratulations to Mittens, Girl and the entire Reynolds family. Happy endings are the best part of our job!
Written by: Lauren Frost
---