Orville's Bumpy Ride to a Soft Landing
He is a beautiful fluffy young cat that most people would love to have; yet he was found wandering outdoors, hungry, with a badly infected puncture wound on his leg. If left untreated, a wound like this will lead to a painful death.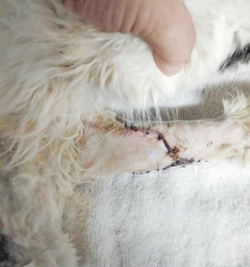 One-year-old Orville had never been neutered and didn't have a microchip. He was also FIV positive, and while he can live a normal life with FIV, it is an indication that he'd had no vaccines. Yet Orville has clearly never been feral. If you pet him, he rolls on his back for a belly rub! How does this happen? At some point, someone loved him enough to treat him well and feed him, but for whatever reason couldn't manage to give him basic medical care or keep him safe. We don't know if he got lost or if he was dumped. We don't even know if a broken-hearted family is looking for him. And we'll never know. Orville is – actually WAS - one of thousands upon thousands of animals, who through no fault of their own, are outside alone, struggling to survive. If Orville could only tell us! Fortunately, Orville's road, though bumpy, began to smooth out when he became a Furkid and got the medical care he needed.
Orville's wound was so bad with so much skin loss that two surgeries were required to before it finally closed. He then spent a good two months recovering in foster care. His wound finally healed and he had gained confidence enough to relax a bit. All along the way, Orville was given love and special care, so any memories of struggling outdoors or the unpleasant medical procedures no longer seemed to haunt his face. In fact, he went from a very frightened boy that hid when he could to a kitty who will roll over on his back, giving you a soft belly to rub. Finally, Orville was adopted. But Orville's story doesn't end there.
Orville still had a bumpy road ahead of him. He began to have difficulty breathing, so his adopters brought him back for help. His problems were more than they could manage. We feared the worst; that it could be cancer, or possibly pneumonia – but a biopsy revealed he had lungworms, which were easily addressed with medication. By this time, Orville had endured more than half a dozen vet visits, two surgeries, intensive wound care, IV's, various medications, a lung aspiration, an echocardiogram, and a dental procedure. It's a lot for a little guy to endure! Thankfully, he has hung in there, and when his treatments were finally over, Orville was healthy and ready for his furever home, which he found just last weekend! Orville was finally adopted for real. Today, he is a healthy happy big floofy kitty in a brand new home!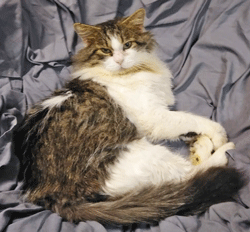 All of us at Furkids – our medical team, our amazing fosters, our caring volunteers and staff – are committed to healing animals – even when it's difficult and expensive. All told, Orville's medical costs were over $4,000. But Orville deserved a chance every time he hit a bump in the road.
Would you like to help other homeless pets?
Will you please give a donation so we can continue to help the most at risk animals in our community?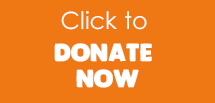 ---