Holidays are Mayhem for Your Pets - Safety Tips for Dog and Cat Lovers
We all enjoy the holidays, and all the ribbons, wrapping and sparkly things can be pretty fun for your pets too. Since these fun things can actually harm your cat or dog, here are some ideas for enjoying a safe and fun holiday for all your family, including the kitties!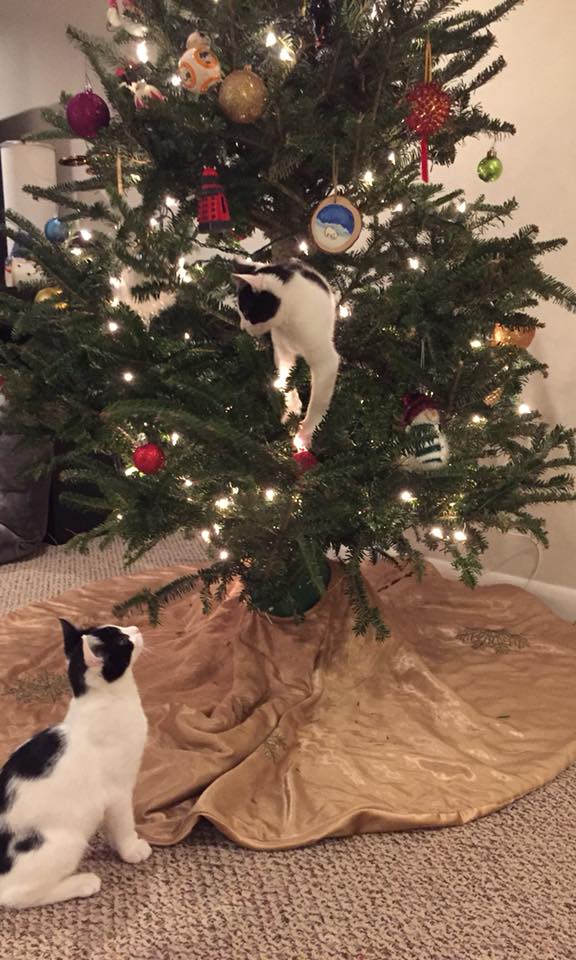 Forego Holiday Plants - Mistletoe, Amaryllis, Holly, Poinsettia and Lilys are all poisonous plants. Just don't use them, or use artificial plants.
Watch the Pine Needles – If eaten, sharp ends can puncture intestines, internal organs. Think like your pet and make sure any pine needles are not accessible to them.
Tree Water – Place the tree skirt or aluminum foil over the opening of the tree stand water reservoir. The water can contain fertilizers and other chemicals and can be toxic.
Lights – Can cause a thermal burn or electrocute the curious kitty or pup who explores with chewing.
Sorry, no Tinsel – Of course tinsel is fascinating, sparkly and attractive to your playful cat. However, if ingested, tinsel could become entangled in intestines or block them, cause severe vomiting, dehydration and even surgery.
Pack Up Ribbon – Pack away wrapping and décor ribbons, since just like tinsel, they could become entangled in intestines, causing life-threatening problems.
Monitor Candles – Never leave a burning candle unattended. They are sooo easy for your dog or cat to knock over and cause a fire or even burn themselves.
Ornaments – Broken ornaments can cut your pets – and you!
Snow Globes – If a globe breaks, immediately clean it up. The liquid inside can contain anti-freeze, which is poisonous but sweet and tasty to animals.
Trees – Securely anchor your tree. Many tree stands are too lightweight to support a heavier tree. It can tip over and cause injury, so get a heavy, sturdy tree stand.
Artificial Trees – Some cats and dogs like to chew on the branches of even artificial trees, which can cause internal irritation or blockage.
Party Time – Remember your pets when guests come over. And if you're having a party, keep pets in a safe room away from the hustle and bustle and open doors to outside
Foods & Drinks – You probably know, but chocolate is a no-no for cats as well as dogs. While we're at it, throw out the leftovers. It's bad for them, with too much salt and fat. It also can include bones and onions, which can injure or poison your pets. And alcohol can also poison a pet. Drink your own drink, and keep an eye on it at all times.
Enjoy your holidays! - Furkids
SOURCES: ASPCA, Catster.com
---