Help Jinxi's Heart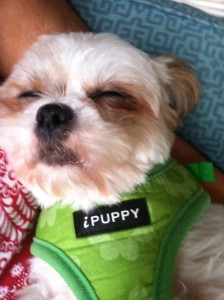 Hi, my name is Jinxi. I am a 2-year-old Shih Tzu and the nice people at Furkids have taken me in. They found me a foster home to live with until a forever family can be found. I am so lucky!
I was surrendered by my family, because they didn't feel they could care for me anymore. I didn't do anything wrong - I am a very good girl!
The people at Furkids and Small Dog Rescue haven taken great care of me and realized I have a heart murmur which will require a special surgery. I am a little scared, but my foster mom and these nice people say it will make me feel a lot better. Sometimes when I go on car rides and get excited it can be hard to breathe and this will help!
The surgery can only be done at a place that has a heart specialist for dogs like me, which I hear is expensive. I have my first appointment with the doctors in September and if everything looks good I should have my surgery soon.
Furkids has promised to get me all better, but I know they could really use help paying for my bills. It will cost at least $3,000 for everything. Any donation you can make will help me and dogs like me!
Thank you,
Jinxi
 [add_to_cart item="Donate to the shelter" quantity="user:1" ] 
---