Featured Furkid - Sweet Pea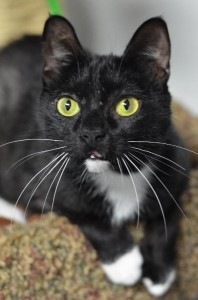 Est. date of birth: 07/17/10
Hello wonderful humans. My name is Sweet Pea, and when you meet me you will find this to be the purr-fect name for me. I crave human attention, including being petted, talked to, and held. I'm the kind of girl who walks right over to you and asks for your time. I have a very unique look. My eyes are big and bright green, ready to mesmerize you. I am a cute tuxedo gal with white feet, chin, and neck. And my other identifying feature is a shorter than normal tail. All I want in this life is to find my perfect match in a person or family. I will give you all of my love, which consists of nose kisses and purrs. I just want to be close to you. Please consider giving me the home that I've been longing for and I will be a great addition to your world.
I was rescued my a nice gentlemen after he found kids throwing me down the stairs at an apartment building! That very nice man sadly lost his job and his apartment, but he kept me! We went from hotel to hotel and every time they discovered me they kicked us out. :-( Finally it just became too much and he asked Furkids to take me and find me a proper home where I could settle in.
I have a slight wobble from my past injuries, but that doesn't get me down. I am ready to settle into my forever home!
---