Featured Furkid - Sassafras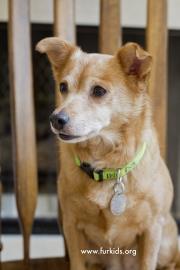 My name is Sassafras and I'm 14 lbs of soft, fluffy sweetness.  With my soft red fur and slightly bushy tail, my foster parents have nicknamed me "Little Fox".  I'm not sure how I ended up wandering around an office complex, but am so thankful I was rescued by Furkids and have a foster mom to follow everywhere she goes. 
I love to get scratched and might nudge my nose under your hand when you aren't paying attention.  I love people and am fine with other dogs - though I prefer occasional play with my foster mom more than playing with other pups.  I get a little stressed in crates, but my foster parents leave me uncrated when they aren't home and I don't mess anything up. I LOVE to go for walks! When I hear the leashes jingle, I perk up and

twirl and jump in excitement.  My foster mom says I'm a perfect angel and deserve the best forever-home Furkids can find!
---