Competitive Furkids Kitties at the Cotton States Cat Show
by C.A. Folds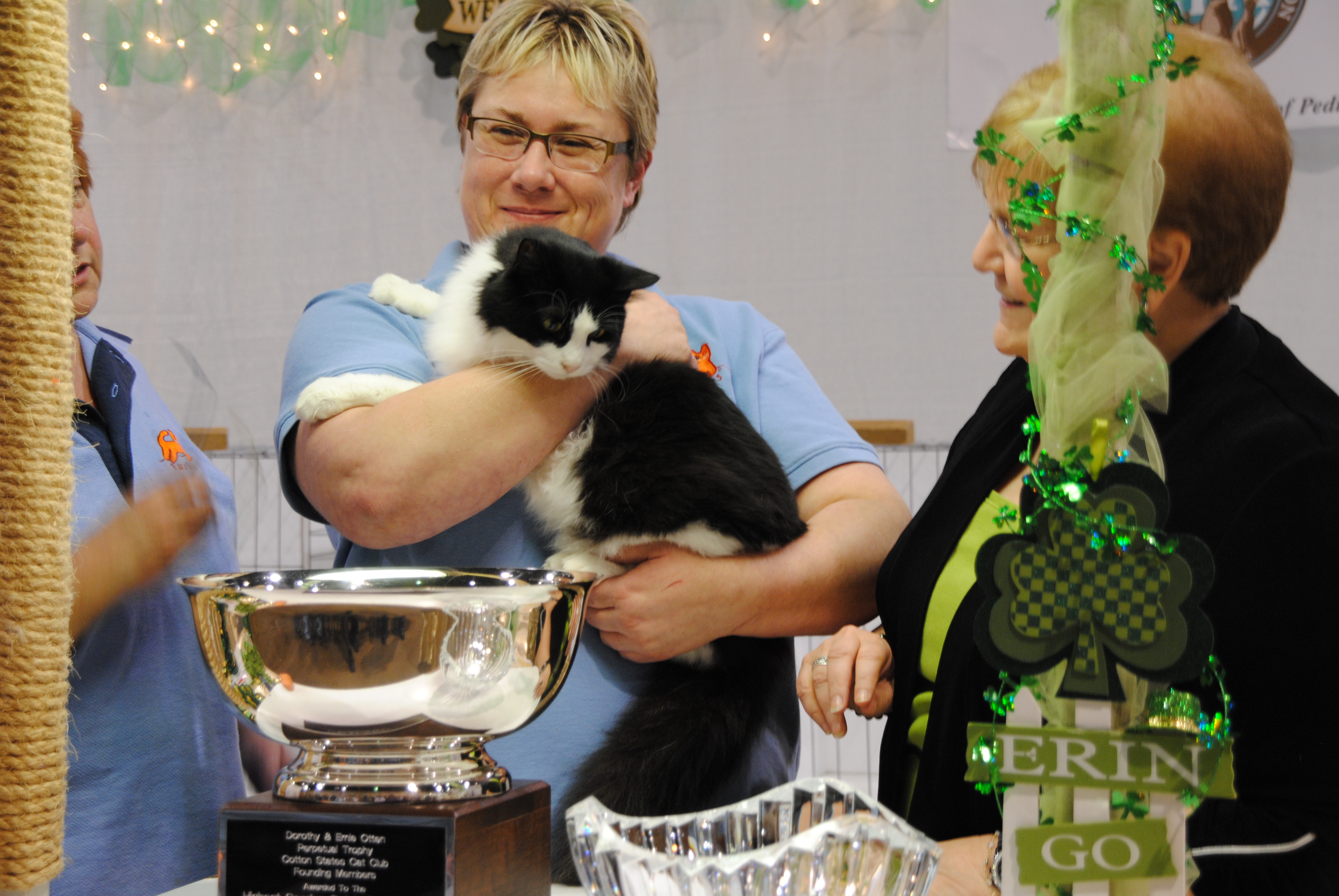 Do you recognize this beautiful black and white boy in Renee Cardona's arms? It's Jesse, a former Furkid, now living with his forever family. In this picture he is receiving his award for being the best cat in the household pet class at the Cotton States Cat Show. Jesse is one of many Furkids who have had brief but fulfilling careers as show cats with CFA and TICA, organizations who celebrate both domestic household pets and purebred cats.
On November 5th & 6th Furkids will again participate in the annual Cotton States CFA Championship & Household Pet Cat Show at the Infinite Energy Center, 6400 Sugarloaf Parkway, Duluth, GA 30097. Hours are 10 AM to 5 PM on Saturday, 9 AM to 4 PM on Sunday. This show is known for presenting the best of all the feline breeds, but the household pet class has become very popular with exhibitors, show visitors, and especially the judges. Because this class has no breed standard for comparing the cats, each judge makes their choices based on the condition of the cat and its personality. Cats must be clean, not declawed, and if older than 8 months, be spayed or neutered. Personality is an important factor in judging the household pets. The cat must be active and enjoy playing with the judges. The household pet class is a favorite with most judges, as they can be completely subjective in their rankings.
More than 300 cats and kittens are expected to compete this year at the Cotton States show. All cat lovers are invited to attend and see the beauty pageant. Admission is $8 for adults, $6 for children and seniors. Discount coupons are available at the club website, www.cottonstatescatclub.org. Click on show info, then click on the spectator link. Come to the show and cheer on the Furkids in the household pet competition!
---