Calypso is Ready to Dance Home!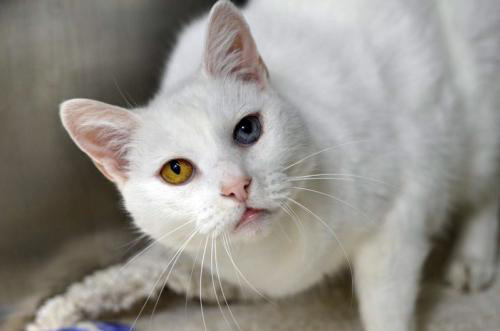 Young and Beautiful CALYPSO Is Interviewing Forever Families, In January, her Adoption Fee is ZERO! Meet Her At Our Cat Shelter!

Calypso is a VERY special girl, for many reasons. She has one blue eye, and one gold; giving her a unique and exotic look. She is DECLAWED. (While Furkids does not advocate declaw surgery, we know that some adopters are looking for declawed cats) and, finally, Calypso is deaf. Which doesn't bother this beauty one little bit.

Calypso had been in foster care for a while, and her foster fam reports that she was a delight. Now, however, she is back at our shelter, and it is not the best environment for a quiet girl like Calypso. She would so prefer the comfort of her very own home...

Deaf cats are remarkably adaptable. Most people forget that their pets can't hear, because they are so attuned to the goings on around them via their other senses. And if there are other pets in the home, deaf animals will take cues from them. Calypso is no exception. She adapts beautifully, and happily.
---