A Catio Gives Your Kitty Safe Access to the Great Outdoors
Self-professed cat lovers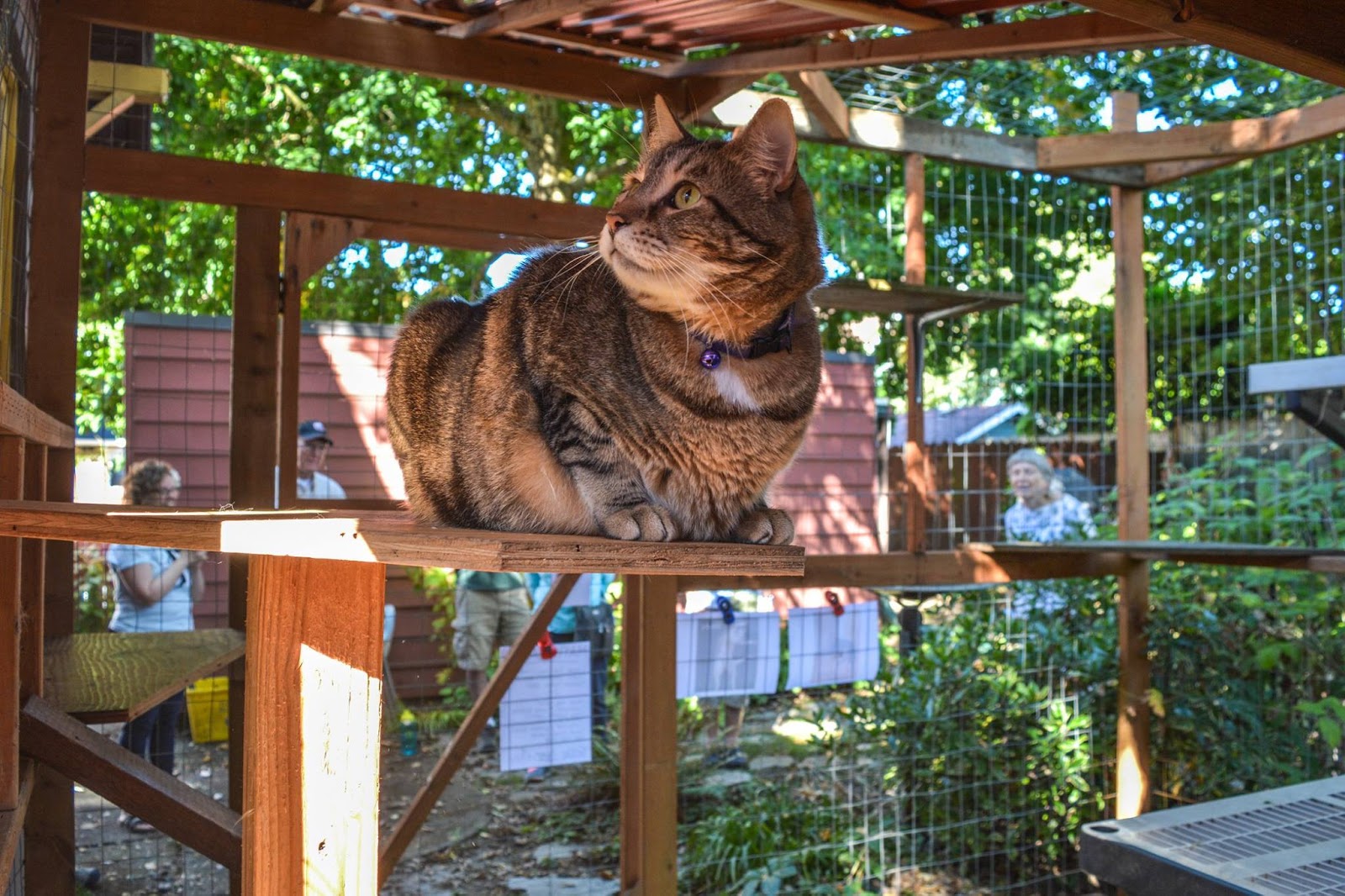 Chad and Kathy Copeland provide a home for a varying number of felines in their Canton, Georgia, residence. They foster for a local rescue, and in their rural area, it's not uncommon for stray cats to simply wander onto their property from the surrounding woods.
Recognizing that their feline family needed to be safe, but also required access to fresh air and the stimulation that only nature can provide, the Copelands recently transformed their back porch into a large, screened-in catio. With scratching posts, shelves to perch on and plenty of sun puddles to nap in, their catio is truly a kitty "purradise."
"In rural Georgia, often cat parents allow their cats to roam," Kathy says. "However, there are dangerous predators in the woods. We decided to build a catio to create a safe place to stimulate and entertain our cats. With a tree-house like space with several perches, a 7-foot climbing post and carpet shelves, this has become our cats' favorite place for play and lounging. We have even added edible plants and soft beds that overlook our creek for midday naps."

What's a Catio?
Catios are essentially patios for cats. They're outdoor enclosures that allow kitties to get some fresh air and experience a little nature in a way that keeps them safe — and keeps the local wildlife safe as well.
However, catios are about more than simply providing your cat with a better venue for birdwatching; they can also benefit your cat's health and happiness.
Indoor cats can get less stimulation and physical activity, which can contribute to a host of problems, including depression and obesity. But by building or purchasing a catio, you'll provide your kitty with an enriching outdoor environment that will truly allow your cat to engage his or her senses.
There's a variety of catios available today. Some are merely small pop-up tents, fence-like enclosures or window boxes, while others are large, elaborate creations that feature shelves, cat trees and scratching posts.
Build a Catio that's the Cat's Meow
You don't have to live in a house or have a contractor's license to install a catio. Even apartment balconies can be enclosed with mesh or chicken wire for a small catio, and there are easy-to-assemble prefabricated catio kits available online.
If you already have a patio or porch, you can simply enclose it like Copeland did. Just be sure the wire, mesh or lattice you use is properly secured from ceiling to floor before you let your kitties out to explore.
If your cat has a favorite window, considering making it an even more exciting destination by transforming it into a window box. Many cat owners have built on small additions to windows using dog crates or spare wood to provide their kitty with enough space to walk outside and relax close to home.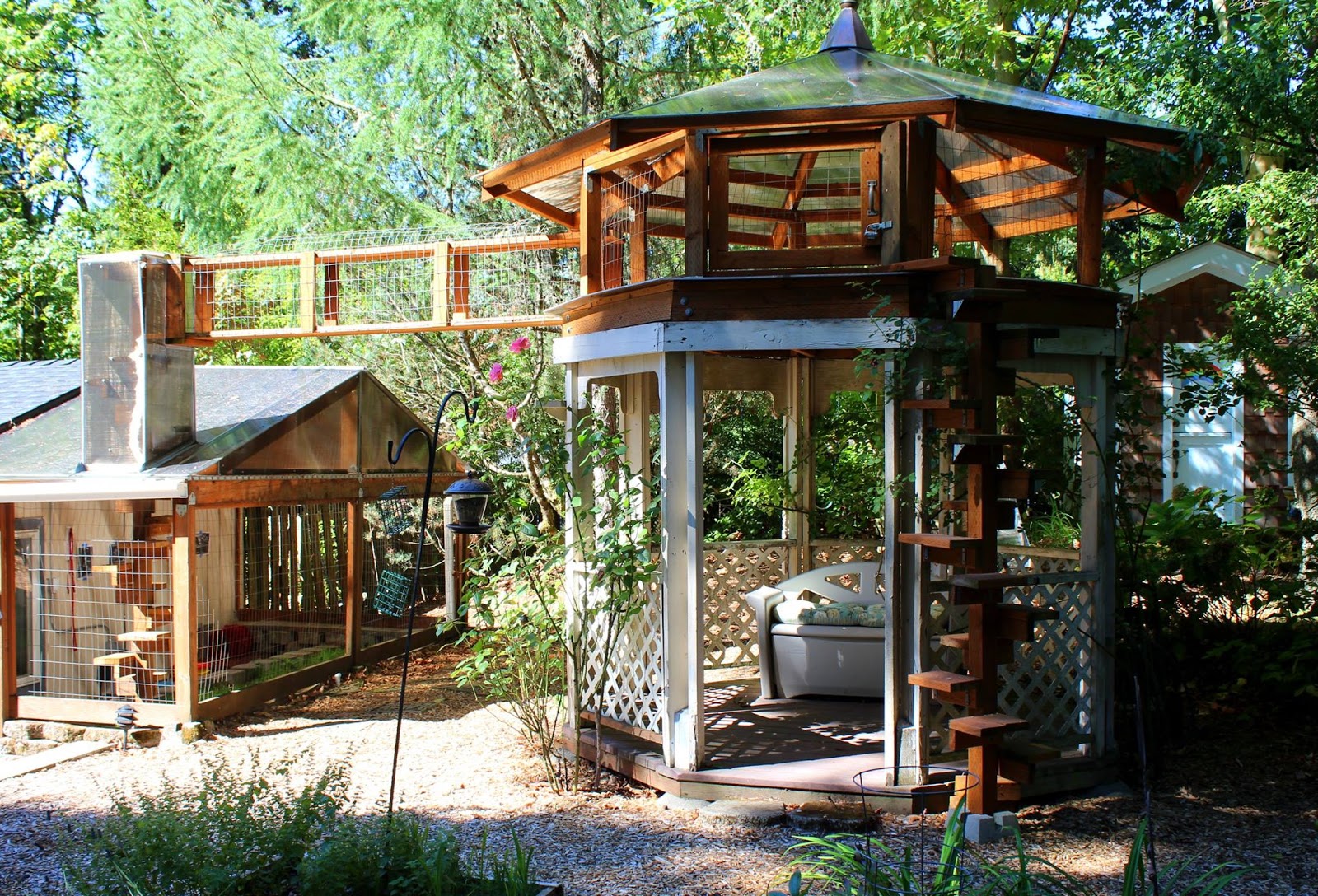 Have more space or budget to work with? Consider repurposing a greenhouse or chicken coop or buying a premade catio. You can also create a true work of art with your catio by constructing an enclosure that's large enough for you both to enjoy.
Some of the most "impurressive" catios out there feature multiple rooms for exploration, a variety of shelves and cat trees so cats can establish their hierarchy, and patio furniture that humans can lounge in with their feline friends.
Resources
Don't have the "expurrtise" to build your own dream catio? No problem. Check out fence-like enclosures that don't require 'building' skills.
Also, many contractors are up for the challenge, and there are even catio specialists, such as Atlanta's Catio Bob who makes custom catios.
Check out our friends Cole & Marmalade discovering a catio for the first time.
For more tips on building the catio of your cat's dreams — and a look at the wide variety of catios available, visit the Humane Society.
Thanks to Adventure Cats and Cats Safe at Home, for assistance with this article.
Photos: Cats Safe at Home/Tara Lemezis, Holly Erickson; J. Brown/Furkids, Omlet.
---