Little Brittney Gets a Second Chance
Updated! Brittney Adopted!
Little Brittney was found as a tiny 4-5 week old kitten, alone in a storm drain in Mcdonough. She had a very severe infected wound on her right paw, which would soon become septic without treatment. Brittney had most likely been dumped, and with the challenges of being a young kitten and the difficulty getting around, her prospects for survival were not good at all.
Fortunately the kind woman who found her decided to get her to Furkids. The wound initially healed, but then began to cause little Brittany severe pain. Every effort was made to prevent amputation, but in the end, the limb had to be amputated so Brittney could live a pain-free life.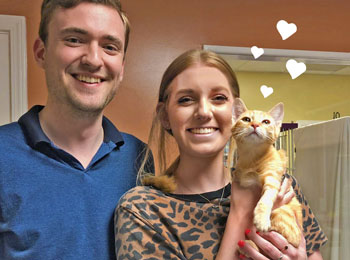 Brittney (named after the kind woman who saved her) then went to a foster home to get the best medical care available from her foster mom, a vet tech.
Today, Brittney is in her new furever home, and really has no idea that she's missing a thing at all!
Without your kind support, Furkids would not be able to save animals like Brittney, since their medical costs can add up quickly. Your gift today will help Furkids continue to fulfill our mission of saving every lift we possibly can – even if the animal is sick or injured, just like Brittney.
---