A First in Furkids' History! ONE Mama, 11 KITTENS!!
In mid-June, a very sweet, beautiful little mama gave birth to 11 kittens in animal control. Although Furkids inundated with kittens, kittens, kittens; we just couldn't
leave this vulnerable brand new family in animal control, where little families are being euthanized to make space. This 12-member family is so large that they are the largest family Furkids has ever rescued in our 17 years of lifesaving!
We asked our wonderful followers on Facebook to help us come up with a great naming theme for this family - a challenge, since the theme needed to broad enough to have at least 12 names! Of course, the Furkids team came through with some awesome ideas, including zodiac signs, birthstones, and the winner - Donuts! So, now mama is named Glaze, and her sweet toddling little kittens are Munchkin (smoke colored), Bavarian Cream (black), Boston Cream (black), Powdered (white), Sugared (buff), M&M (black), Jelly (gray), Oreo (black), Blueberry (black), Cinnamon Twist (brown), and Sprinkles (torti). Whew! That's a lot of names!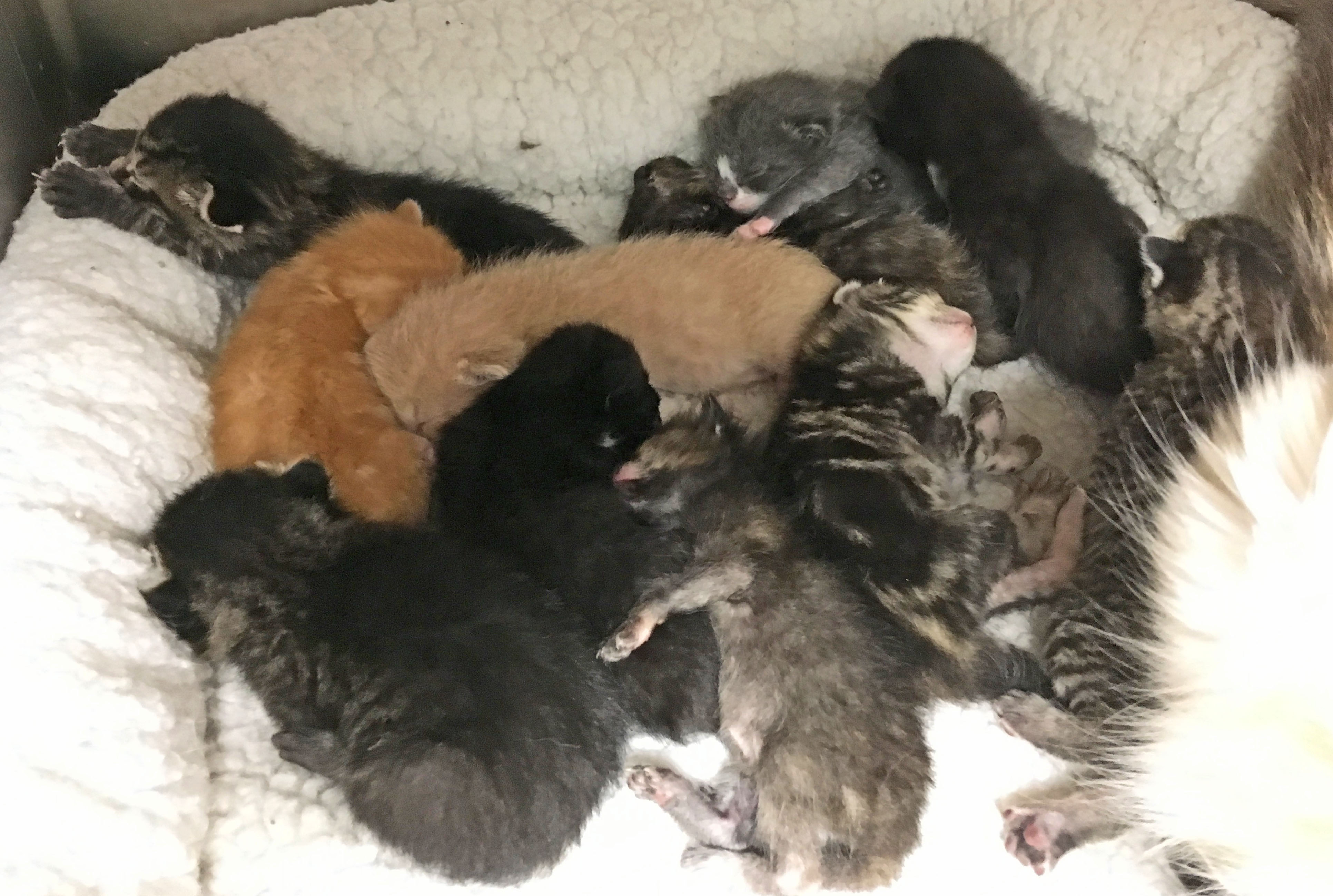 Glaze's babies were only three days old when they arrived at Furkids, and were still nursing. Needless to say, mama Glaze was already a bit tuckered out! With a goal to keep this family together, we clearly needed an experienced foster willing to take on such a large family, knowing it was likely some bottle feeding would be needed to help Glaze keep up with milk demans and also remain healthy. We are so greatful to our wonderful foster Gregg V., who stepped right up to help! Gregg tells us he's having a great time - and - he's actually fostering four other older kittens! Thank goodness for his big house and very helpful family.
---