Tybee - Featured Furkid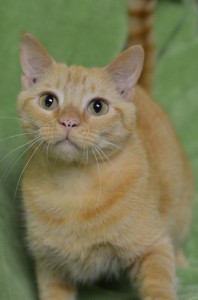 Tybee is my name and being adventurous is my game. I am known to run around the room, jumping and climbing on anything in sight. Even though I am quite courageous, I am also a sweetheart. I am a lover boy who will come over to you for lots of love and affection.
I am listed as special needs, but it is small in the grand scheme of things. I require a special food diet to keep my tummy happy due to a food allergy. See, it is not a big deal! Lots of people have food allergies, too. I don't let anything get me down. As my name suggests, I am the color of a very important aspect of the beach- the sun! And I'd love to be your 'golden' boy, spreading sunshine throughout your home and into your life. So let's make arrangements to meet so I can stop the world and melt with you!
Apply to adopt me today or e-mail adopt@furkids.org with additional questions.
Tybee is only a little over a year old and would do great in most any household!
---