Two Recent Group Visits
Here at Furkids, we always look forward to having students from Ohio State University's Buck-I-Serv program visit us for their week-long service trips.
The most recent OSU group was here the week of December 12. In addition to helping out at the main shelter, they also spent entire days at Small Dog Rescue, the FIV House,  Thrift Store, and helping with Santa pictures at Midtown PetSmart.
At SmallDog Rescue, they took EVERY dog (40 of them!) on a nice walk and also afforded many of them lots of playtime in the playroom. The dogs were tuckered out by the end of the day as you can imagine!  They also did some much appreciated cleaning throughout the shelter.  More pictures here.
A million thank-yous to these students for not only choosing to spend their breaks doing volunteer work, but also for choosing Furkids as the organization where they want to serve.
[portfolio_slideshow pagerpos=disabled showcaps=true include="4377, 4376, 4368, 4367"]
We also had Girl Scout Troop #11536 visit us in late November.  Here they are, below, displaying their homemade toys they brought for the cats!! Thank you Ellen & the girls. We really enjoyed your visit. Please come back again!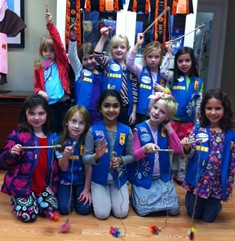 ---