The Furkids Scabies Babies
Everyone please give some Valentine's Day love to our Scabies Babies!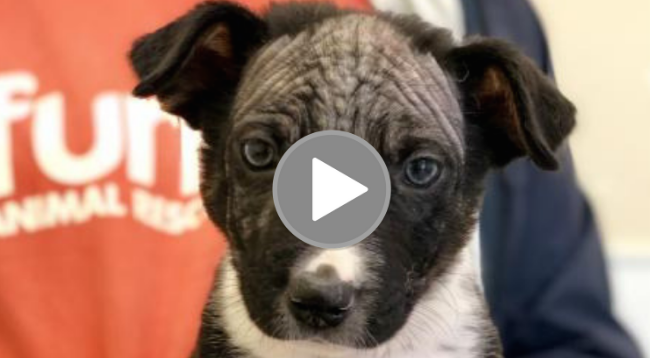 Their story starts with two sister dogs who were living outside in a shed. They both became pregnant, and soon gave birth to 4 and 5 pups respectively. Shortly after giving birth, both mama dogs were exploring outside and came across a horse. Their border collie instincts kicked in, and they tried to herd it. The horse was not amused, and kicked out at both dogs. One dog, Sally, was injured but survived. Her sister did not recover and passed away, leaving Sally to care for all 9 babies on her own.
Animal control was called and took the family into their care. They were not prepared to care for these clearly neglected dogs and asked Furkids to step in. One look at their sweet faces and we knew we had to help!
The puppies all had severe skin issues and after a thorough investigation, our vet team diagnosed them with scabies. Scabies, also known as sarcoptic mange, is caused by the Sarcoptes scabiei mite, a highly contagious skin parasite. The mites burrow into the skin and cause severe itching, which can result in the formation of scabs and hair loss.
For a full month, our team worked hard each and every day to get them well. They needed special baths multiple times a week, daily medication, and lots of love and attention.
All of the babies are now happy and healthy, and most of them have been adopted by wonderful families. If you're looking for a sweet pup of your own, Sheldon and Santana are still available for adoption!
Here at Furkids we see cases like these every day. Our generous supporters enable us to take in these animals who would otherwise be left homeless or worse just because it costs too much to take care of them. Please help us continue saving lives and creating happy homes by clicking the button below and making a gift today.

---