October is Black Cat Awareness Month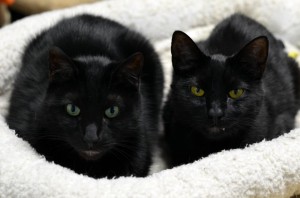 At Furkids, it is painfully obvious which cats are overlooked at our shelter by adopters. Though likely unintentional, black cats are overlooked again and again by adopters across the country. 
Pictured left are Louie and Zorro. They are best buds and have been living the shelter life for far too long! They have patiently waited for the purrrfect human to give them the loving home they deserve for almost SIX years! They have to watch while other cats go home, and they don't understand why they aren't selected. Help them by fighting this black stigma and apply to adopt them today or champion them to your friends, family and colleagues through sharing on e-mail and social media!
Furkids currently has over 180 cats and kittens that are primarily black available for adoption!!! This is 1/3 of our cats available for adoption. Browse available black cats by visiting our adoptable page and typing "black" in the search field.
There is no logical reason for this epidemic in shelters across the country, commonly referred to as black cat or black dog syndrome, but there are various reasons we have noticed over time.
Black pets don't photograph as well as animals with light colored coats. Since many of our adopters find pets online, we believe that part of this issue stems from online photos.
 In Britain and Japan, having a black cat cross your path is considered good luck! Unfortunately, in the U.S. many people associate black cats with witches, Halloween and other negative superstitions that are far from reality. In fact, black cats often suffer cruelty and harm during Halloween season. We recommend keeping all cats indoors to protect them from weather, wild animals and cruelty.
This issue doesn't apply to only solid black cats. Tuxedo cats, cats with a white chest and sometimes paws, are equally hard to place.
You can help now!
1. Adopt a black or tuxedo cat2. Donate toward their care [add_to_cart item="Donate to the shelter" quantity="user:1" ] 3. Share this post on Facebook, Twitter and social media sites4. Visit our
adoptable cat page
and pick one black cat to share on your social media pages 
TOP TEN REASONS TO ADOPT A BLACK CAT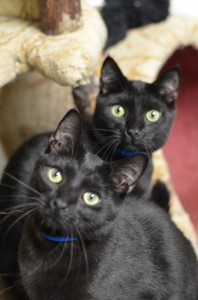 10. You'll save money on their Halloween costumes
9. You can always find them in the snow
8. Holding a black cat is very slimming
7. Black cats will match any decor
6. A lint brush isn't required for a black-tie affair
5. When you love a black cat luck is on your side
4. Black cats are like onyx—a beautiful gem.
3. They don't care what color you are!
2. Research suggests black cats are friendlier
And the number 1 reason:
They are the least likely to be adopted.