Lemond the Missing Ear Kitty *UPDATE*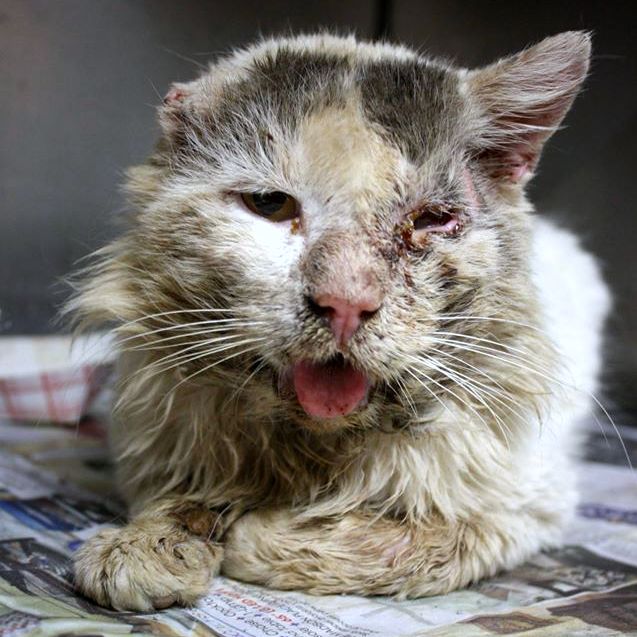 We introduced you to Lemond in our last newsletter. One of the most pitiful cats we've seen, Lemond came to us from animal control with a horrible skin infection, ear mite infestation, just one ear and only one viable eye. He was also covered in some sort of unidentified grease. Not a pretty boy, by any stretch; and not a cat that most rescues would promote, or even consent to take. But, Furkids – as you would expect – said, "YES! We will help him!"
Thanks to an army of generous donors, we were able to get Lemond the surgery and care he needed to begin a new and healthy life. In the process, Lemond was "discovered" by the folks at Headline News (HLN) here in Atlanta, and he was asked to star in a video about his story!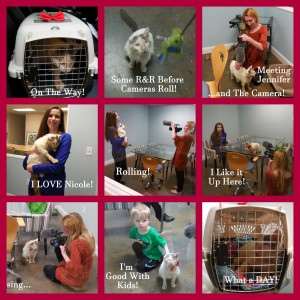 On Tuesday, our now-dapper friend – complete with a red silk bow-tie – WOWED the camera with his performance. Lemond loves everyone, and made that very clear while filming! We've created a collage of the event, so that you can sneak a peek into his exciting day! The video, once produced, will be available at the HLN website, and we will update Lemond's story with a link when it is ready. We are SO proud of this brave guy!
With Lemond's new status as a SpokesCat for the animals other rescues leave behind, he has just two simple messages:
LEMOND wants YOU to know that your generosity is the REASON he is thriving. AND, that your continued support will make it possible for Furkids to say "YES!" to MORE HOMELESS ANIMALS in dire straits.
Please consider supporting LEMOND'S cause, and donate now. Mention "We Love Lemond" so he knows you care! We can't WAIT to share his TV debut. Thank you!
---