High School Students Share Kindness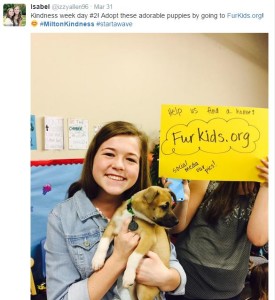 In 2014 Anna Mahr, senior class president at Milton High School, organized a Kindness Week to encourage kindness and school spirit in a school environment reeling from several tragic deaths. The community undoubtedly felt the need for such an event and Kindness Week delivered! The week was a huge success and in 2015 the school decided to hold Kindness Week again, this year with additional opportunities including a visit from Furkids dogs, dance parties, teacher appreciation events and letter writing to the troops.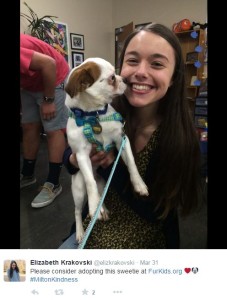 Five adoptable dogs visited Milton High School on March 31 to play with students and encourage mental health and stress relief in a fast paced school environment. In addition, the students were encouraged to use social media to help find these animals forever families. A Twitter and Instagram storm of pictures exploded. Use #miltonkindness #startawave and #miltonkindnessweek to see more photos on Twitter and @miltonkindnessweek on Instagram.
Over 400 students met our five rescue ambassadors this day and hopefully made a big impact on the students and their families. The school is already in talks to host a volunteer day at the shelter. Kindness really is key and we are so grateful to the students at Milton High School for including us in their special week.
If you participate in a club, school or group that might be interested in working with us please email us at info@furkids.org. School supply drives are a great way to give back!
---