Lemond Goes Home!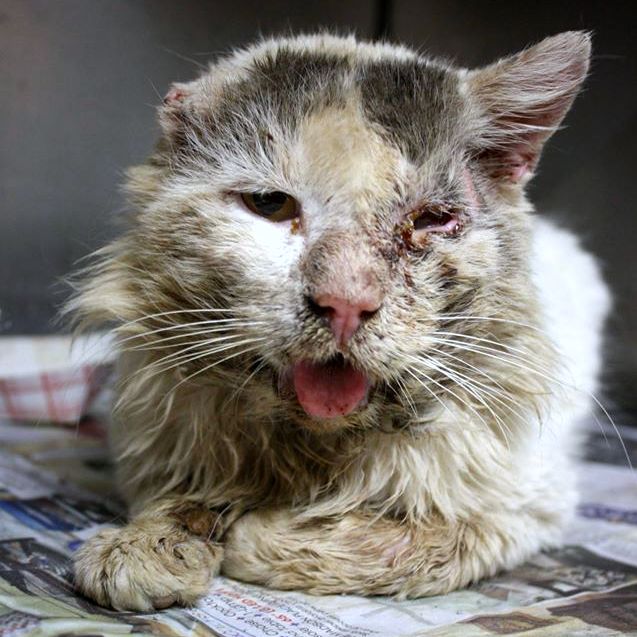 Lemond stole our hearts, and gave new meaning to the phrase, "Everybody's beautiful, in their own way".

When Lemond came to Furkids months ago, he looked like a very sad cat. He was filthy, flea-ridden, and covered in grease; missing most of an ear, and had just one "good" eye. His jaw was crooked, and he drooled a little. An initial exam identified some problems - Lemond needed to have his damaged eye removed, and his crinkled ear was due to a severe ear-mite infection. Our docs couldn't find anything specifically wrong with his jaw; so we decided to leave his mouth the way it was.

After his eye surgery, Lemond was placed in a wonderful foster home, where he was treated to spa-like baths; eventually removing most of the grime. And, as his pretty markings became evident, so did his remarkable heart. Lemond was a joyful, happy guy under his rough exterior.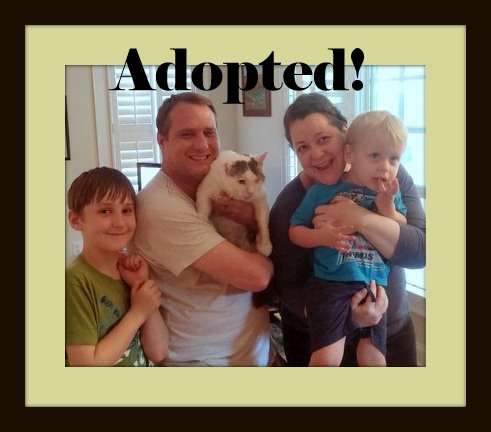 He caught the eye of a journalist, who captured his persona in a video for the Headline News Network. He became an Internet sensation on the Furkids Facebook page. And he dazzled shelter visitors at our Caturday events, resplendent in his red satin bow-tie. But, he didn't get adopted.

Then, last week, the rumors started to swirl...a family wanted to meet Lemond. The visit was arranged; we held our breath, it was a MATCH! Lemond had a Forever Home!

We couldn't have asked for a better fit. Although Lemond looks like he's been around the block a few times, we estimate he is just 4 or 5 years old. And he loves to play. Now he has two young fellas to hang out with. Lemond is also a bit of a clown. We can imagine the fun he'll have with a couple of sometimes-silly boys.
Yep, our beautiful Lemond now has his own family; and they're beautiful, in every single way. Happy tears!
Written by: Nancy Pihera
---