In Furkids News…
There are always so many things going on with, about, for, and at Furkids that we want to share with you.  Here are some recent happenings for your reading and viewing pleasure...
We Were Awarded a Grant
We are very honored to have been chosen for a $2000 grant from the
Bernice Barbour Foundation
.  This private and very generous foundation has awarded many grants to some prestigious and incredibly worthy causes.  We are excited to be counted now among their grant recipients.  The funds will go towards our spay/neuter services -- as we aim to do all we can to control the pet population in Georgia.  Huge thank-yous to the Bernice Barbour Foundation and to our grant writing team -- Patty, Chris, Sam, and Ida.
Outreach
Not only are we happy to have volunteer groups come to the shelter to learn about animal welfare -- we also like to go out to visit our supporters in their spaces!  On November 3 we visited the first graders at the
Atlanta International School
with Buddy the dog.  As you can see from all the smiles (and goofy fun faces) in the pictures, it was a big success!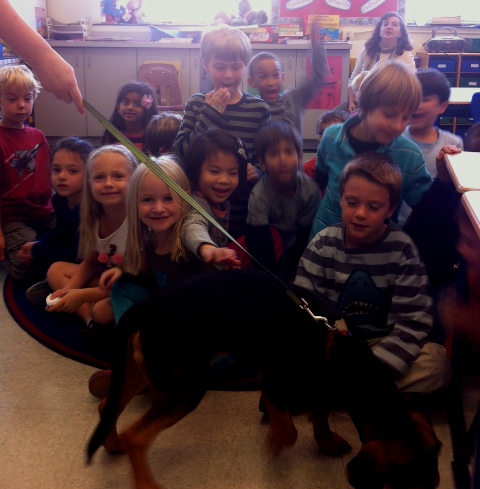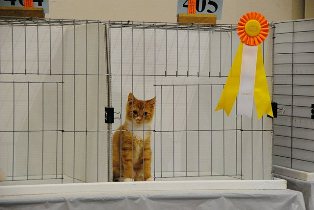 Furkids Has GREAT Show Cats
At the recent Party Cats Cat Show in Norcross, several Furkids kitties claimed some top awards!  Many congratulations are in order for the well-decorated kitties!  See
pictures from the event here
.  Pictured to the right is Conan -- he won 2nd Place Overall in the show!  Do you want a show-quality cat?  All of them are available for adoption.  Be sure to check out the pictures in the link above of Fifi, Super Kitty, Gypsy, and Leo as well.  We would also like to recognize the staff and volunteers who worked hard to get the kitties ready and who helped out at the show that weekend!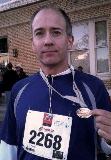 Volunteer Raises Funds for Furkids
Shelter and North Lake PetSmart volunteer, Thad Dickinson, ran the Athens GA Half-Marathon on Oct. 23, and in doing so raised over $600 for Furkids. His campaign, Footin' It for Felines, had set a goal of $500, and thanks to donations from family, friends, co-workers, and the
VCA Lilburn Animal Hospital
, he was able to meet and surpass his goal. This was Thad's first competitive race since the 8th grade (he's way older than that now!) and he completed the half-marathon in 2:12:02, just over 10 minutes per mile. He began running in early 2011 to help relieve stress caused by his ailing cats and as it got easier (and the cats got better) he decided to see if he could put his new hobby to good use. Thad has already registered for his next half-marathon to raise more money for Furkids.
---