August Cat and Kitten Adoption Specials: We are on Fire!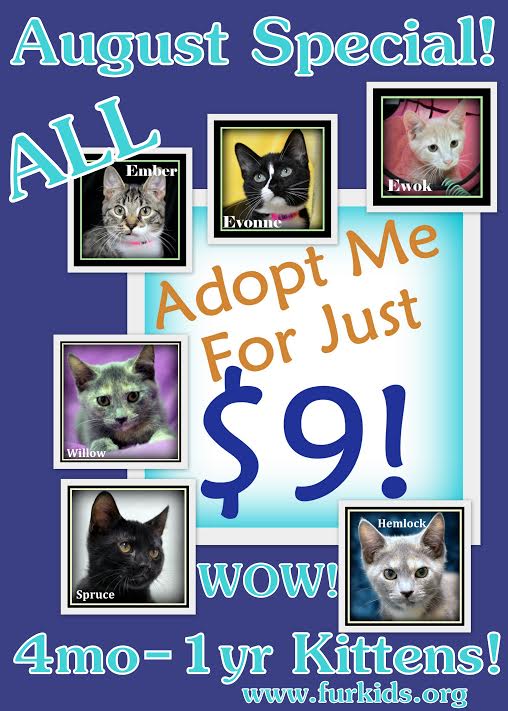 Tetched By the Heat? You Decide!

We ran some hot adoption specials last month, but this August, we're on FIRE! Furkids is in a full-on Forever Home frenzy. We have too many cats and kittens, and we know a flood of fall felines is just beyond the horizon.

We've reduced adoption fees in three ways:
1. ALL kittens, aged 4 months to one year are just $9!
2. Our "little" kittens, less than 4 months, have 1/2 price adoption fees - just $62.50.
3. ALL of our adult "Shelter Dwellers" have $9 adoption fees. Visit the shelter this week!
Reminder, our FIV+ cats, seniors (8 yrs+), and sponsored kitties have no adoption fees at all!

These sizzling specials are in effect until the last day of August, but don't wait! Stay cool, and visit our felines online. Or grab your flip-flops, and head over to the cat shelter Mondays or Saturdays from noon to 5 PM; or Wednesdays from noon to 8 PM.

You can also meet some cool kittens this Saturday, August 8th, from 10 AM to 2 PM; at any of our three thrift stores. They're all hosting Thrifty Kitten Kaboodles; and every "Thrifty" adoption includes a $25 gift certificate for a future shopping spree! Learn the details here.

Yep, that's just plain crazy...in a good way. Don't miss out!

Written by: Nancy Pihera
---