Abandoned on the side of the road – left for dead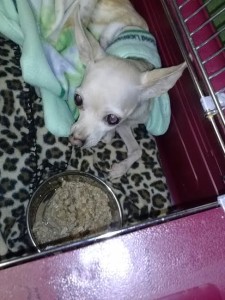 Chloe's rescue story is unimaginable. It is something you read about in a newspaper and drop your jaw in amazement. Chloe was found abandoned in a cat carrier on the side of a busy road in Chamblee. She was left for dead. Actually, she was left for worse than dead. Had someone not found her she would have continued to suffer cruely from dehydration, starvation and eventually die an agonizing death.
LUCKILY someone with a keen attention to detail noticed the carrier and pulled over to find this precious baby! Chloe was rescued weighing a mere 3.5 lbs. The vets think she needs to at least double her body weight to be at her proper size. Aside from being emaciated, Chloe has injuries to her legs. X-rays so far have been inconclusive, but it is a challenge for her to walk right now. She can not have surgery until she is stronger and healthy so right now we are just nursing her back to health. She may eventually need a leg amputated.
When she first came to us she slept for days. Her poor little body went through so much trauma she needed the rest. Now she has gained an entire pound is starting to trust us more each day. She loves to curl up in a blanket and often underneath it. Chloe doesn't have to worry anymore because she is a Furkid now. She is safe and will be safe until we find her forever family.
Please help us provide all she needs by giving a donation to "Chloe's Care."
---