A Whirl with Whitfield
by Stephanie Swain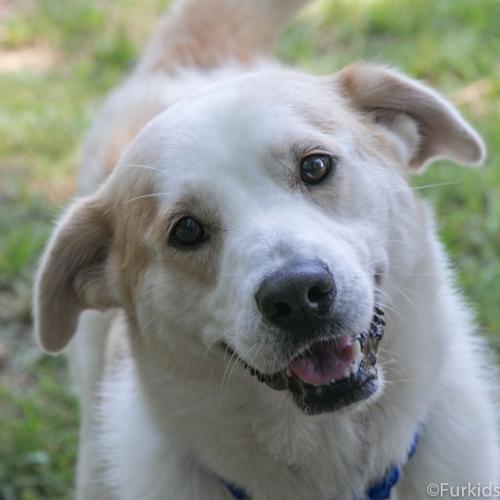 As a Furkids volunteer, there are so many ways you can make an animal feel special as they wait to find their forever homes. The simple act of playing in the yard or taking them on a walk can help their state of well-being. I recently discovered the joy of the "one-on-one outing". A couple of weeks ago, I took Princess out for a stroll at the park, and then for a doggie sundae at Brusters. It went so well, I decided to take a handsome fella by the name of Whitfield out for a frosty treat.
First off, Whitfield is excellent in the car. He was a bit timid about getting in, but had no problems with me picking him up to help. Once in the car, he was completely relaxed and at ease.
Once we got to Bruster's, Whitfield waited in line for his ice cream and was grateful for the attention from strangers. I'm not sure I've ever seen a dog love ice cream as much as this guy does... Watch him eat it! He gobbled it down as fast as he could, even turning over the container a couple of times. What really impressed me though was how he had no issue with my reaching in and resetting the cup for him. My heart truly melted after he finished his ice cream and relaxed his whole body, leaning into my leg while I continued to enjoy my milkshake.
From what I understand, Whitfield is fine with children and certain dogs. I can say with all certainty that he would make anyone a fine ice cream-eating companion. For more information on Whitfield and to fill out an adoption application, please visit furkids.org/dog-adoptions.

Socialization and interaction is essential to an animal's health. I encourage you to volunteer by taking a shelter dog on an adventure. Become a volunteer today at furkids.org/volunteer.
---