A Harrowing Look: Horrors of Dog Hoarding

Dozens of dogs saved from extreme neglect need immediate help
Last week we received a critical call to rescue 60 dogs in one of the most horrific animal neglect cases in Furkids' 19-year history. Left to suffer unthinkable conditions, the hoarded dogs were starved and their health neglected, many with visible ailments and coats matted beyond breed recognition. As if their deplorable living conditions weren't enough, the innocent pups were all emotionally battered to the core.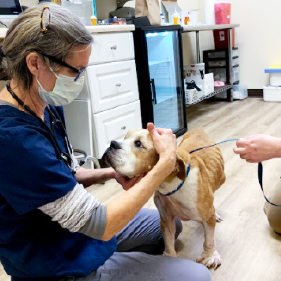 We are heartbroken to report that sweet Grace (pictured here with Dr. Orlin) did not survive the pain and suffering and crossed the rainbow bridge shortly after being rescued. Homeless pups like Jax and Mattie are still in desperate need of your donations NOW. Our in-house veterinarians, technicians and shelter teams will continue to provide necessary medical assessment, tests, pain medications and everything else in their power to help heal their bodies, hearts and souls.
---
Will you help Furkids raise urgent funds needed for the medical care and rehabilitation of these innocent victims?
Your generosity will go directly toward their chance at a second life.

You may make your gift online or mail your gift to:
Furkids
5235 Union Hill Rd.
Cumming, GA 30040