You Can Help Pee Wee Live to See 2015 with a Matching Gift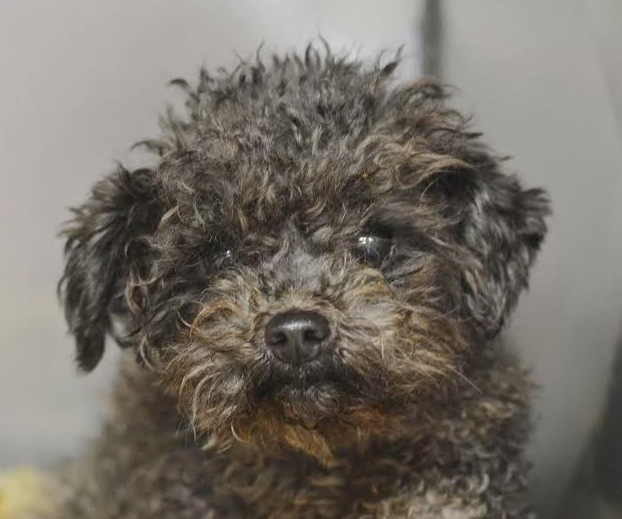 Meet little Pee Wee, named because he weighs just five pounds. 
Pee Wee is a brave soul who was abandoned by his owner and left alone in Dekalb.  The small dog struggled to find his way home -- lost, hungry, cold and confused – when a car hit him and broke his back.  He was thrown to the side of the road, unable to move, until a concerned passerby called Animal Control to pick him up and end his suffering by putting him to death.  But the team at the county wasn't ready to give up on this little dog who couldn't walk but showed a huge heart and loving spirit.  They called Furkids last week, hoping we would save his life, and we took him in immediately. We couldn't resist Pee Wee's beautiful face and determined eyes, and we had to give him a chance at life. 
Furkids will help Pee Wee live to see 2015.  However, it will take us more than $2,000 in veterinary care to help this brave little poodle mix to walk again. 
The good news is that we have a wonderful donor who will match every dollar you donate to help Pee Wee, if we raise $2,000. Please join us in helping this little dog live to see the New Year and beyond.  He will never find his original home, but Furkids will make sure he is healthy, safe and happy until he finds a forever Furkids home. 
 DONATE NOW
$10 = $20
$25 = $50
$50 = $100 
$100 = $200
  [add_to_cart item="121114" quantity="user:1" ] 
Please help us earn the matching grant so we can go on to save another helpless cat or dog from death. And hurry -- we only have a until Monday Dec. 15 to earn the matching grant!
Thank you for your heart and compassion for helpless, homeless animals. Together we have saved over 2,000 animals this year!
---