Wishing You Health, Happiness, and Home for the Holidays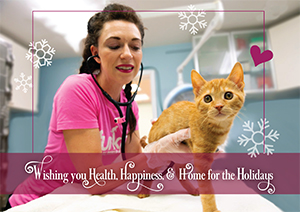 I have always found the holidays to be a great time for reflection on the past year, and 2018 has given me so much to be excited about! Thanks to you, it has been an incredibly successful year in so many ways. Let me tell you about just a few of the great things that have happened for our organization and the 3,000-plus Furkids we've saved so far this year.
We started off 2018 as a partner with Miranda Lambert in her Atlanta concert, generating some great awareness for Furkids. Miranda and her crew loved having the opportunity to play with some of our adoptable dogs, and we had a great time working with such a talented and respected artist!
In March of 2018, we launched the Furkids TransFUR Coalition, a partnership between Furkids and other no-kill shelters in northern states that have a shortage of adoptable animals. We transport adoptable pets to organizations in 11 states where they have a much higher chance of finding their forever homes. So far we've driven close to 1,000 animals in only eight months, and the coalition has quickly become one of our most successful lifesaving programs.
Our first full-time shelter veterinarian, Dr. Erika Elmore, joined us in July. Erika is a terrific vet and a valuable team member whose services will save us money and provide more vet care for our Furkids onsite.
We were also honored to become a donation distributor for Petco, picking up and distributing 40 pallets of food and pet items each month to 36 different organizations throughout Georgia.
For the second year in a row we won Atlanta Magazine's Give Atlanta Challenge! Throughout all of these exciting developments in our programs we have remained true to our core mission: saving lives. So far in 2018 we've saved more than 3,000 cats and dogs and look forward to saving many more as the year draws to a close.
Perhaps our most exciting change this year has been finding our own forever home! In September of 2018, Furkids purchased a beautiful 9-acre property that will consolidate our people and our animals into one shelter, sanctuary, and community center. It's hard to describe the beauty of this place in words, with its ponds, waterfalls, gardens and paths. With its peaceful environment, it will be a destination where our animals, staff, volunteers and adopters can connect with nature and each other. Currently, we are building a capital campaign to renovate the existing building and build new structures on the property.
With all of these exciting developments in 2018, we recognize the true beauty of Furkids: you! Our supporters, volunteers, adopters, fosters, and all of those who love animals are our family, and our family comes together every day to save the life of every animal that comes through our doors. Furkids is a lifesaving organization, but we don't just save cats and dogs. People of all ages and walks of life are invigorated and rejuvenated when they spend time with our animals, and our animals are saved every day by the people who give of themselves so generously.

And, of course, our needs never stop. Innocent animals need 24/7 medical care, food and loving human care. Everything we do, every single day, and every single life we save costs money and time and resources. So when you plan your year-end giving, please put Furkids first on your list.

This year, in the midst of all of these accomplishments, I am bolstered most by the knowledge that we, the Furkids family, continue to make an immeasurable difference in the communities and lives that we touch. And after all, isn't that the true meaning of the holiday season?
Thank you for being part of our Furkids family! Merry Christmas and Happy Holidays!
With every good wish,

Samantha Shelton
Founder and CEO
---