We're Flooded! Can You Help?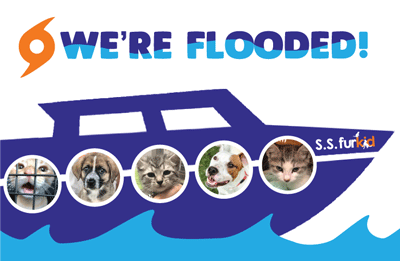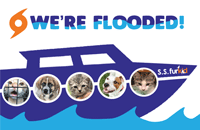 This week, Furkids' TransFUR Coalition transported Hurricane Florence evacuees, taking in as many as our shelter and current foster capacity allows. On top of that we have numerous summer litter kittens - so we're awash in a wave of cute, adoptable, adorable kittens, cats, puppies and dogs right now!
As Hurricane Florence overstays her welcome in the Carolinas, we are working hard to recruit fosters and match families with pets in need of loving forever homes. This means we need your help – with fosters, donations - and especially ADOPTIONS THIS WEEKEND.
What can you do?
ADOPT NOW - A lot of people wait for the right time to adopt. NOW is the right time for the animals. NOW is when it's most needed. And NOW is when you're going to do the most good.
Adopt a Kitten or Cat!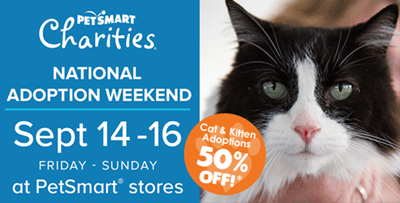 50% off Kitten and Cat Adoptions Friday – Sunday, September 14-16
We're so happy that PetSmart's National Adoption Weekend starts NOW! That's right, Furkids is participating in an adoption event that can be a real game-changer for our adoptable pets, and for our fund-raising efforts. Why, you ask? Well, PetSmart Charities helps Furkids with funding that supports our rescue efforts. And of course, have adoptable pets in several PetSmart stores throughout Atlanta. Check out our locations and hours, and check out our adoptable kittens and cats:

Adopt a Hurricane Florence Pup!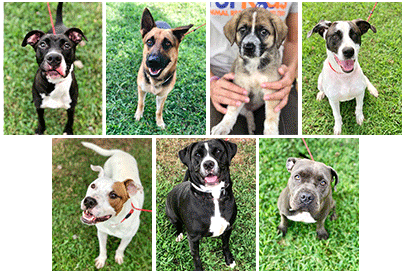 Please join us in giving a big Georgia welcome to these seven pups from South Carolina! These guys traveled via our TransFUR Coalition van from coastal shelters in Charlestown and Myrtle Beach ahead of Hurricane Florence, via Greenville to Atlanta. Since our TransFUR van was already prepped for our cancelled cat transport, we were able to quickly jump into action. They arrived at Furkids late last Wednesday night and are all settling in nicely!
The next step is to find these pups a great forever home. The shelter is open 7 days a week (10-5 Monday - Saturday and 11-4 Sunday) so come on by and say hello! If you can't adopt right now, please make a donation towards their care. Take a look at all our adoptable pups:

DONATE to help cover the urgent and skyrocketing costs of this emergency effort:

FOSTER to help us make room for more evacuated animals. The more fosters that step up, the more lives we save! If you can help, please reach out to us at: