We have a chance to share 5 million dollars in grants from Chase Giving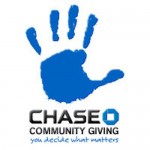 Furkids was nominated as one of hundreds of non-profit agencies around the United States to participate in Chase's Community Giving Program. Chase will be giving away 5 million dollars in grants and YOU get to decide who receives them! 
Voting will run from September 6 thru September 19.  Voters receive 2 votes per Facebook account. Each vote must be cast for a different Eligible Nominated Charity - 1 for Furkids and 1 for another lucky charity!
Chase customers with an online Chase account have an opportunity to get 2 additional votes. There is also 1 bonus vote awarded for Facebook users by allowing Chase"Access" and sharing content from the Chase Community Giving application to your Facebook newsfeed or timeline. If you qualify for each of these opportunities, it will allow for a total of 5 possible votes - with 3 going to Furkids! Are you still with us?? 
Steps you can take to help Furkids win $10,000 - $250,000: 

1. Visit  Furkids' Chase Community Giving Page and vote for Furkids and another charity of your choice
2. Share your vote on your newsfeed or timeline and receive a bonus vote.
3. Use your bonus vote to vote for Furkids - again! 
4. If you are a Chase customer visit www.chasegiving.com and use your additional votes for Furkids and one other charity. 
What we can win!
Chase will donate the $5,000,000 to the 196 Eligible Nominated Charities who receive the most votes:
o   $250,000 to the Charity receiving the most votes;
o   $100,000 to the next ten runner's-up Charity;
o   $50,000 to the next thirty-five runner's–up Charity;
o   $20,000 to the next fifty runner's-up Charities;
o   $10,000 to the next one-hundred runner's-up Charities;
---