Volunteer Spotlight: Nancy Rinzler
We value each and every volunteer who donates their time and energy to our cause. In our Volunteer Spotlight series we're honoring our amazing volunteers and recognize the incredible work that's helped us continue saving the lives of countless homeless animals in need.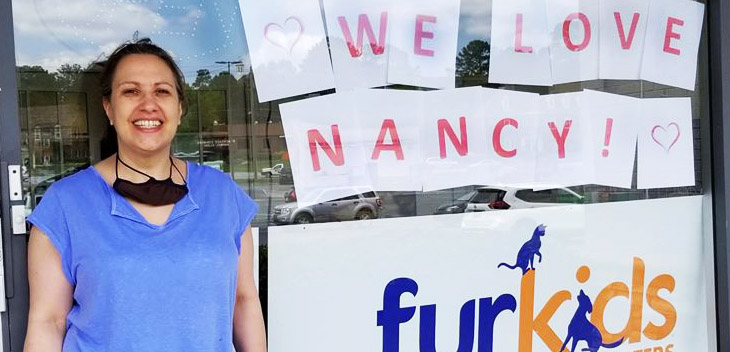 Meet Nancy Rinzler.
Why did you choose Furkids to volunteer/foster?
I found Furkids when my daughter started an animal welfare club in high school. She partnered with Furkids for fundraising and school-wide dog visits. I continued the relationship she started.
How long have you been a volunteer/foster at Furkids?
A lifelong cat lover and animal rights activist, I wanted to do more rescue work when my oldest daughter left for college exactly two years ago.
How many hours per week do you volunteer?
I spend about 30 hours a week volunteering for Furkids.
Where and how do you primarily volunteer?
First, I started fostering, and then I helped in the medical department. Nowadays I drive cats all over town (between the main shelter, outside vets, and the Peachtree Corners Adoption Center). I also update medical records and help with transports to the North for Furkids' TransFUR program.
What do you like most about volunteering? Fostering?
I love all animals, and I try to live a cruelty-free life. I love volunteering because I don't want to just write checks. I like giving homeless animals a better life. With so much spare time (now both kids in college), I cannot sit around and not help the voiceless animals who suffer so desperately, often in abusive situations.
Which cat or dog is your favorite and why?
I have no favorite cat at the shelter. I love them all, even the difficult ones.
What would you like people to know most about Furkids?
Furkids saves cats and dogs, but it has also saved me! During the Covid pandemic, my husband has been working from home, and I am so grateful to get out of my house. When I get a call for transport, I literally smile from ear to ear, grab my keys and mask, and run away!
Also, I would like everyone to know that Furkids really needs volunteers to clean in the medical area. Our medical area houses cats from the healthy free-roaming rooms during their time of need, as well as new intakes who are ill or injured. There is a real need for medical volunteers to clean, so please help when you can!
What do you do when you are not volunteering with Furkids?
When I am not volunteering for Furkids, I am at home worrying about Covid-19 and the state of our country. Not much else to do these days, except maybe trying out new vegan recipes. Boring!
Do you have pets? If so could you briefly describe them to us?
Four of my five cats were fosters whom I could not part with. My most recent foster came to us pregnant and didn't deliver for six weeks. Once she did, we had to wait another eight weeks for the kittens to be of adoption age. Over four months, we were all too attached to mom to say goodbye, but we had to part with the kittens. At least we know our kittens will be safe. Emotionally it can be so painful to part with a foster, but what I most like about fostering is being a link in the process of cats getting forever homes.
Thank you Nancy, for all that you do for Furkids! Stay tuned for our next Volunteer Spotlight, and please visit our Volunteers page if you're interested in becoming a Furkids volunteer.
---