The Miraculous Recovery of Charles Xavier
About a month ago, we came across a video from The Grey Project, an organization that helps feral cats in Cherokee County, along with this post:
"Please - begging for help or for rescue!! This is the second day that we have seen this kitty at one of our locations. He does not seem to be familiar with the other cats. He is friendly."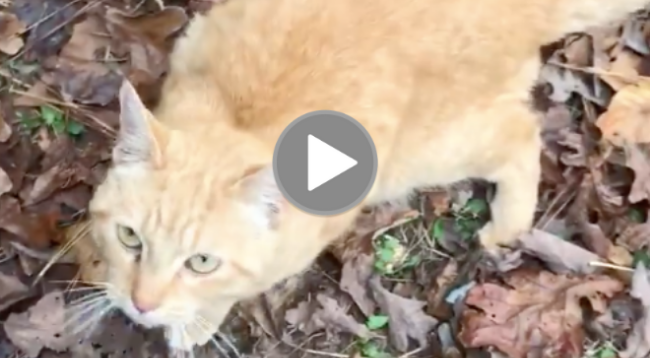 Misunderstood and unloved, he was obviously dumped at this cat colony with no concern for him at all. He was simply thrown out like trash. He had no chance to survive outdoors on his own, and would most likely be euthanized if taken to animal control. We just couldn't ignore this poor kitty's struggle. So, we raised our hand and said, "We'll take him!"
Once we got the newly named Charles Xavier to our med team, they determined he has cerebellar hypoplasia, which is a developmental condition usually caused by a neonatal infection. Cerebellar hypoplasia can occur when the portion of the brain that controls fine motor skills, balance and coordination - the cerebellum - fails to develop properly. Usually the only signs are a weak, wobbly gait. Cats with cerebellar hypoplasia can usually do very well in the right home (limited stairs, no dogs, inside only, shorter litter box, etc). The condition is not painful or contagious, and cats with cerebellar hypoplasia can be expected to live normal life spans. That's great news for our little Furkid!
Once he was cleaned up and finished with initial medical exams, Charles Xavier moved in with our med team in their office so they could keep a close eye on him. Thanks to the patient physical therapy, love and attention he received, he's walking much, MUCH better - to the point where you can hardly tell he has a wobble at all! Just look at the difference in the video. It's amazing what a little work and a lot of love can do!
After exactly one month here at Furkids, Charles Xavier was adopted into a loving home! He's had quite the journey, and we are so happy we were able to be a part of his happily ever after.
Please raise your hand and help us make little miracles like this happen every day by donating in honor of Charles Xavier and all the other misunderstood kitties who need our help.

Click here to see Charles Xavier's amazing recovery!
---