Meet Arial the Blind and Deaf Puppy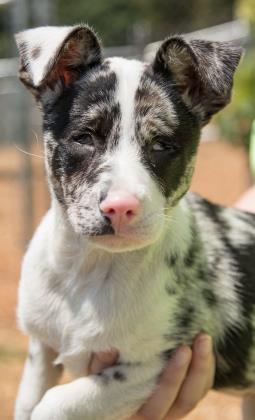 Furkids rescued Arial from a high kill animal facility where she was likely dumped by someone who was unable to sell her for profit. Despite what must have been a harrowing experience for Arial, she is a truly remarkable puppy. That's because Arial is blind and deaf, disabilities that do not keep her from living a very social and active life. Arial is also becoming quite proficient in using her sense of smell to find what she wants - she found her basket full of dog toys quickly and also quickly learned where to find her food and water. Every day Arial becomes more comfortable in her own skin. She circles a lot to keep her calm, but as she grows more comfortable she circles less and less.
We believe Arial is the result of someone breeding two Merle colored dogs. Often it results in a blind or deaf dog, but rarely does it cause both. She is only 5 months old and does not know any differently. To her this is normal.
Arial's is working on potty training and leash training. Both are going remarkably well considering Arial's special needs. Once Arial learned that her kennel was a safe place, she has been happy to stay in the kennel when people are not around. Arial is a very special dog who deserves a very special adopter. She even attracted attention on Buzzfeed when they launched "50 Adoptable Dogs from Every State in the USA ," Arial was picked to represent Georgia!
Arial will do best with other dogs she can rely on and learn from. She enjoys the company of other dogs.
If you want to know more about Arial and to speak to an Adoption Counselor, please complete an application at www.furkids.org. or email dogadoptions@furkids.org
Please share her picture and story and help us find that special place she will call home.
---