Furkids Receives $20,000 Donation and Special Surprise from Cryptocurrency Baby Doge Coin and NASCAR Driver Brandon Brown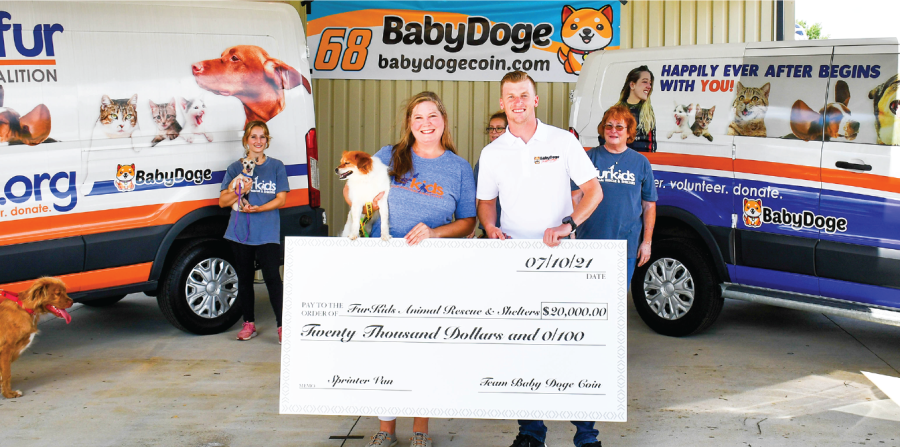 On Saturday, July 10, 2021, Furkids pulled up to the Atlanta Motorspeedway with a few canine passengers for an exciting check reveal from a new face in animal welfare: Baby Doge Coin.
It all started when our CEO, Sam Shelton, received a call from Baby Doge Coin rep, Tom Connly, about wanting to support Furkids as their first dog-charity beneficiary as they kicked off their sponsorship for NASCAR driver and dog-lover, Brandon Brown.
Baby Doge Coin launched in June 2021, and is the world's first dog-charity cryptocurrency whose mission is to save dogs by using donations to help fund dog and animal related causes.
The new cryptocurrency was created by fans and members of the popular Dogecoin community and even supported by Tesla Motors CEO, Elon Musk.
"When I answered the phone and Tom told me about this opportunity to work with Baby Doge Coin and Brandon Brown, I couldn't say no!" said Shelton.
Soon after the call, the Baby Doge team announced their $20,000 to Furkids to help cover the cost of a new van for the Furkids TransFur Program.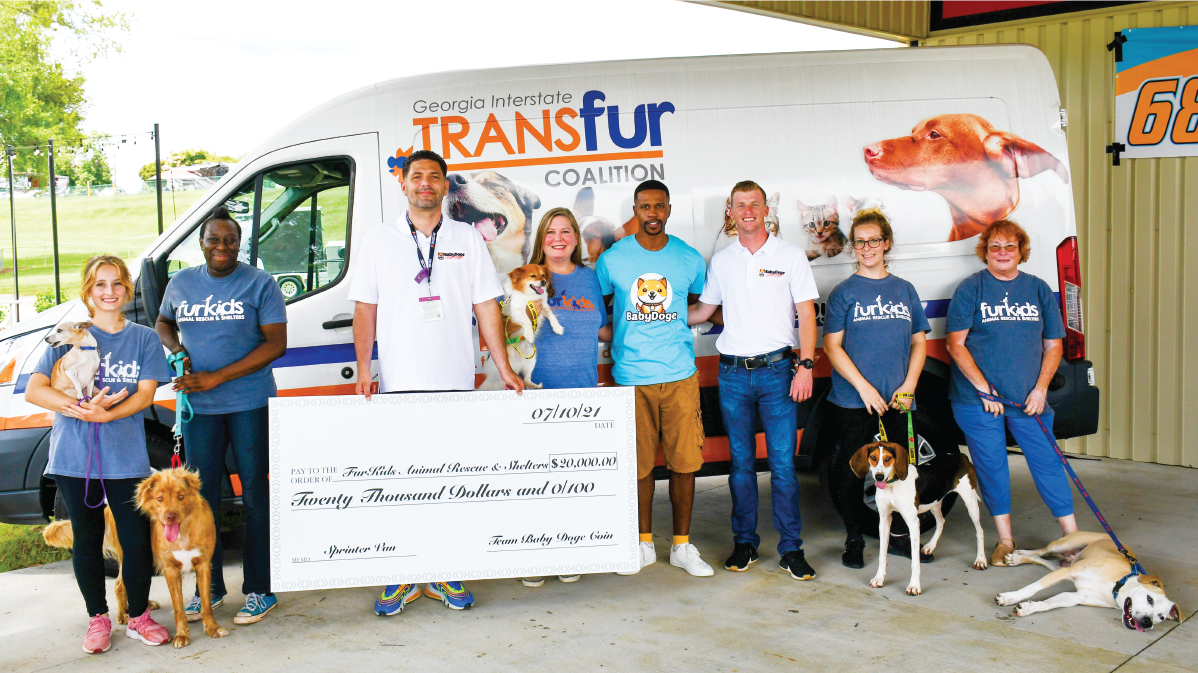 Furkids' TransFur Program launched in 2018, and has transported over 3,000 homeless animals since its start. The program has been one of our most successful avenues for placing homeless animals with adoptive families.
"There is more demand in the North for animals, and we can meet that demand with even more vans to drive more animals to forever homes thanks to Baby Doge Coin, Brown, and his team for joining our drive to change the lives of animals and the humans who love them," says Shelton.
---
But the surprises didn't end there....
Brown shared with the Furkids team that he will sport the Furkids logo on his #68 Chevy Camaro for the next 12 races to help homeless animals in need while driving his car toward victory lane!
We are so grateful to Baby Doge Coin and Brandon Brown for your generosity, a day filled with dog park play-time and lots of belly rubs! Our homeless pups in need are wagging their tails a little harder thanks to you.
Be on the lookout for the Furkids logo zooming down the tracks, and Baby Doge to the moon!