Callan and Corduff - Brothers Reunited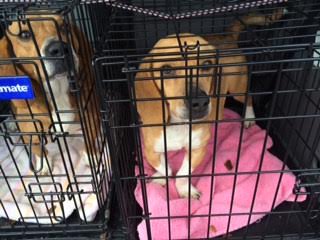 Callan and Corduff were excited and relieved as they took their freedom ride in the back of a volunteer's car from a high-kill shelter on March 4. They were becoming Furkids dogs! They knew they were safe and were ready to begin their journeys to find forever homes! Though the brothers enjoyed each others company, they also did well apart in other playgroups, so the staff felt comfortable placing them in separate homes. Just one month after their rescue, the Ramirez family found and adopted Corduff. He would be the first dog for the family, and they were thrilled. Callan was excited for his brother and knew it would one day be his turn.
A few months rolled by and Callan was still available. Friend after friend was adopted and Callan kept waiting for that special family. It was obvious fate had bigger plans for him.
One day in July, Mrs. Ramirez called our shelter to ask a simple question about Corduff's paperwork. While on the phone our vet tech commented, "I have his brother sitting right here in my office." The Rameriz family was shocked to learn Callan had not been adopted. After adjusting to life with a dog for a few months, they decided two dogs couldn't be much harder, and the boys were meant to be together. So they came back and adopted Callan, too!!! Callan had been waiting for his family to come find him and little did he know his brother was waiting for him at home.
They are now reunited and loving life together. Their names are now Tocino and Jamón (which means bacon and ham in Spanish.) Below is a sweet video of them reunited. Hopefully this gives your heart a warm fuzzy feeling like it gave ours.
---