$0 Cat Adoptions during Open House Weekend March 21-22
Six weeks ago Furkids saved 34 cats from a local shelter that was forced to close. So we are excited about our open house on Saturday, March 21, and Sunday, March 22, because we will showcase additional cage-free space, second surgical suite, and home for FIV+ cats made possible by a local donor. But the goal is as many free adoptions as possible! It's the only way Furkids can continue to rescue, heal and provide forever companions to more people. Click here to learn more about the Furkids Open House and browse adoptable cats NOW! 
"Adding 34 cats to our already full house, meant our super foster team had to mobilize," said Samantha Shelton, executive director and founder of Furkids. "With a call for more foster parents, we solved most of our housing issues. We can always use more fosters homes."
Over four weeks, the Furkids staff assessed the needs of each individual cat. Most needed vaccinations and had not been spayed/neutered—serious concerns with warm weather just around the corner. There also were medical issues such as food allergies and vestibular disease and other special needs the compassionate Furkids team identified and addressed.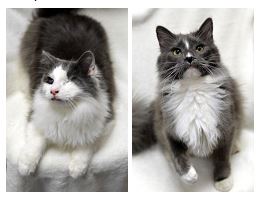 "Many local shelters do not have the capacity to handle homeless animals with special needs," Shelton said. "But, I believe the Furkids team excels at healing the obvious and not-so-obvious wounds some abandoned pets have when they come to us.
Mike (left) and Jim (right) are young brothers rescued by Furkids when a local shelter closed."I'm proud of how the Furkids community responded to this need."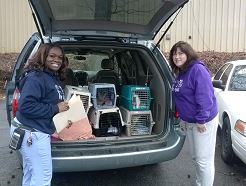 Crystal Ali-Latimer (left), vet tech, and Dana Starr (right), foster home coordinator, were part of a Furkids team that worked over three weeks to save 34 cats from homelessness. Not pictured are: Terri Brunson, director of operations; Carol Purdy, surgical manager; Megan McNerny, med team volunteer; and Jeani McGovern, vet tech.
---