Studio Movie Grill: Pound Puppies Event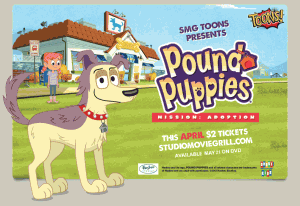 Studio Movie Grill in Alpharetta continues its hit SMG Toons Series with April screenings of Pound Puppies: Mission Adoption.
Saturday, April 20, Studio Movie Grill and Furkids will be hosting an adoption day in front of the theater and collecting donations of dog food and treats and other pet supplies. Dogs will be present between 10 a.m. and 1 p.m. and the movie begins at 11 a.m. 
While supplies last, SMG is offering movie passes and copies of the DVD for Pound Puppies: Mission Adoption provided by Shout Factory to those who donate to our animals! 
We hope to see you and your family at this fun and unique movie screening! You may even find your new best friend at the event! 
Saturday, April 20
10 a.m. - 1 p.m. 
Studio Movie Grill 
2880 Holcomb Bridge Road
Alpharetta, GA 30022
---