Corporate Volunteer Groups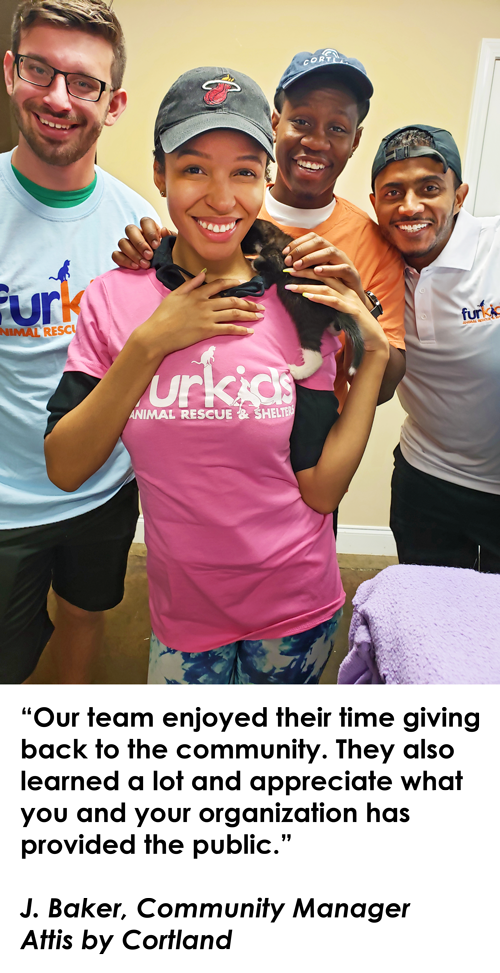 Furkids welcomes you to volunteer with and for animals. Whether you are working with animals in our shelters or outdoors at our scenic Furkids headquarters, the Furkids volunteer experience is fulfilling and offers rewards that go beyond simply feeling good about helping. Homeless animals are wonderful in the ways they show their gratitude, and show it they do!
More and more companies offer their employees volunteer time off. Volunteer time off has been proven to increase both productivity and morale when employees are given opportunities to give back to their communities.
Actually reduces costs
Studies show that volunteering sparks employee engagement; in teams and with the company. Engaged employees are happier, stay longer and perform to a higher standard.
Promotes employee satisfaction
Many employees today place a high value on volunteering. In fact, a recent study found that 76 percent of employees felt that, "When work and life blend and enrich each other, everybody wins". On top of that, employees who volunteer are more engaged and loyal to their companies. Employees also strengthen bonds with their colleagues by working together on a project in a different environment. Source: GuideStar
Makes companies more attractive to prospective employees
Good corporate citizenship is important to Millennials, who make up a growing proportion of the workforce. More than half stated that a company's policy for volunteering influenced their decision to accept a job offer. Volunteering attracts people who are talented, passionate potential employees more likely to fit in with the company culture. Source: GuideStar
Can build leadership skills
92% of surveyed human resource executives agreed that contributing business skills and expertise to a nonprofit can be an effective way to improve employees' leadership abilities and broader professional skill sets. Source: Deloitte Volunteer IMPACT Survey.
Corporate/Professional/Other Adult Group Volunteering FAQs
What type of groups volunteer for Furkids?
The types of groups best suited for our program are:
Corporate groups, ranging from corporate departments to local small businesses to local retail teams and anything in between.
Professional organizations and associations.
University service groups and clubs.
How many people can be in a group?
Dog shelter: up to 10
Cat shelter: up to 10
Furkids Headquarters & Cat Shelter: up to 30
Is there a cost involved?
$20/person. Includes unlimited water, and a swag bag with Furkids T-shirt, pen, Thrift Store Discount coupon, Furkids informational literature.
What group volunteer activities are available?
Depending on location, available opportunities and your group goals, your experience likely will include a blend of service projects, educational talks, tours in animal areas and some hands-on activities with the animals. Group volunteer service projects often include landscaping, painting, working in storage areas/organization, and cleaning of animal areas.
​How do we schedule group volunteer time?
Please email us and we'll get right back with you!
What should we wear and bring?
For your protection, volunteers are required to wear closed-toe, closed-heel shoes in all animal areas. Long pants are also strongly recommended. We recommend that volunteers dress in layers, since some work is outdoors. Wearing a hat and sunscreen are also suggested. Unlimited water is provided.
How are meals handled?
You will need to make arrangements for meals, which can be delivered. There is a long covered back porch on the Furkids campus, where your group can take a break, relax and eat. There are also a wide range of restaurants nearby. Your volunteer coordinator will provide more details.
More questions?
Please email us and we'll get right back with you!