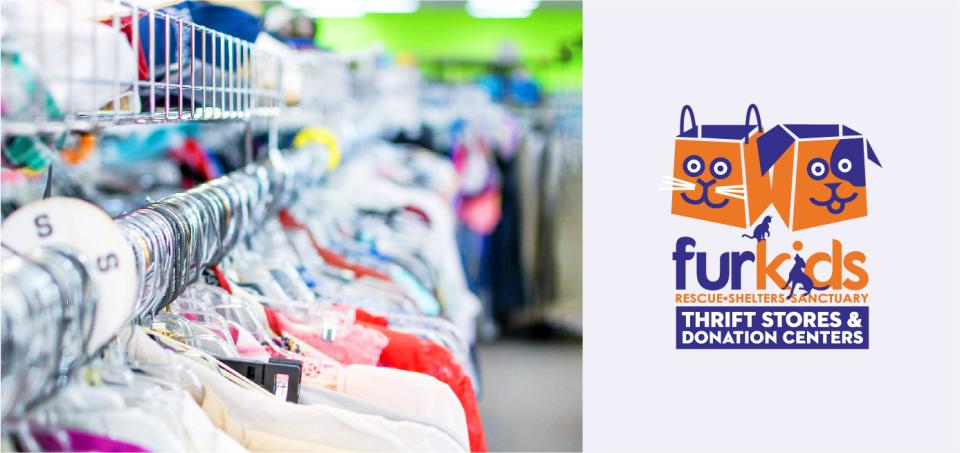 About
Thrift Store Proceeds Benefit the Lifesaving Programs of Furkids!
Furkids thrift stores provide very valuable revenue for the Furkids lifesaving programs. In fact, income from the Furkids Thrift Stores makes up one-third of our annual operating budget, saving the lives of homeless cats and dogs. In 2021, Furkids saved 5,040 cats and dogs! The revenue generated from your donations to the store allows us to provide lifesaving medical care, shelter and food for over 500 animals on a daily basis. Thank you for your support!
Shopping for Bargains?
Our thrift stores have furniture, appliances, art, antiques, books, stationery and greeting cards, clothing and accessories for men, women, and children, collectibles, home accessories, lawn and garden, light fixtures, office furniture, sporting goods — and much more! You can even shop Furkids Thrift Store online! Visit our eBay store.
Every day, you'll find selected merchandise 10% – 50% off.
15% Senior and Military Discounts every Wednesday.
Accepting Your Gently Used Items Daily
Please support our lifesaving efforts by donating gently used items from your home. We are ready and happy to receive your household goods of clothing, home decor, kitchen items, pictures, books, music, art, collectibles, furniture, appliances, and more. We need it all and we sell it all! If you have a large item and need a pick up, please email us or call our Marietta store at (770) 578-6031 to arrange for a pickup.
Volunteers are welcome!
We always need help organizing and cleaning. Volunteers of all ages are welcome, including youth volunteers. Start your volunteer journey with Furkids here.
Locations
Johns Creek
9850 Nesbit Ferry Road, Suite 10
Johns Creek, GA 30022
(678) 288-5442
Hours
Mon-Sat: 10 am - 6 pm
Sun: 12 - 5pm
NEW! Furkids Closet
9850 Nesbit Ferry Road, Suite 16
Johns Creek, GA 30022
(678) 288-5442
Hours
Mon-Sat: 10 am - 6 pm
Sun: 12 - 5pm
Peachtree Corners/Norcross
4015 Holcomb Bridge Road, Suite 400
Peachtree Corners, GA 30092
(770) 817-1405
Hours
Mon-Sat: 10 am - 6 pm
Sun: 12 - 5pm
Marietta
1487 Roswell Road
Marietta, GA 30062
(770) 578-6031
Hours
Mon-Sat: 10 am - 6 pm
Sun: 12 - 5pm
Lawrenceville
255 Scenic Hwy
Lawrenceville, GA 30045
(770) 545-8014
Hours
Mon-Sat: 10 am - 6 pm
Sun: Closed
Tour our Peachtree Corners store!