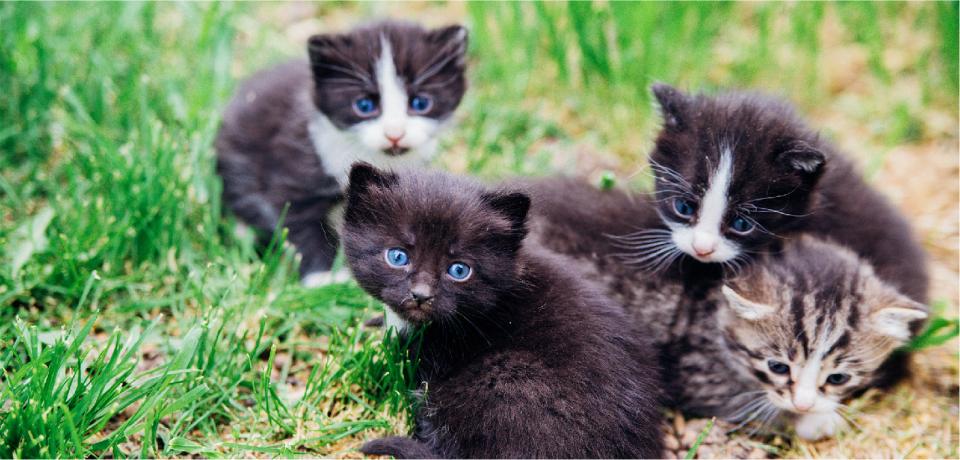 The height of kitten season is typically March through October in Georgia.
Finding kittens can be alarming, and the first instinct is usually to remove them and hand them to a rescue. However, please keep in mind that rescues, fosters and shelters are all overflowing year around. The best thing you can do is learn how to be part of the solution.
IF YOU FIND KITTENS, ASK:
Are the kittens clean or dirty?
Do the kittens appear thin or well-fed?
Are the kittens cold and wet? Keep in mind that their coats will be cold in winter despite their body temperature.
If the Kittens are Clean and Well Fed with a Good Body Temperature:
Mama cat is almost certainly somewhere nearby. Mothers leave their kittens while they go out looking for food, sometimes for long periods at a time. The goal should always be to find the mother because the kittens need their mother's milk for antibodies until they are 5-6 weeks old. Just as importantly, the mother needs to be located and spayed as soon as the kittens are 6-8 weeks old so that the breeding cycle ends. Female cats can get pregnant as early as four months old, and they can have three litters per year! If the kittens are too young to eat canned wet food on their own (less than 5-6 weeks), assume that their mom will return to care for them, leave them alone, and return to search the area when the kittens are older. If the kittens are old enough to eat on their own, and the mama appears to be feral, you can read our trapping instructions.
You can find a list of low-cost and no-cost spay/neuter clinics here.
If Mama cat is sweet, still have her spayed at a low-cost or no-cost clinic so that no more kittens are born to struggle on the streets. Once you are absolutely certain she does not belong to a neighbor, you can attempt to find her a home or rescue. Please do not take cats to shelters. They usually do not have a good outcome, and tens of thousands of cats are still euthanized annually in Georgia shelters.
If the Kittens are Dirty or Thin with a Low Body Temperature:
Remove the kittens and bring them indoors. If they are cold, put them on a heating pad with a low setting and cover the pad with a towel so the kittens don't overheat. If they are 5+ weeks, try to give them canned wet food and water. Do not give cow's milk. If they cannot eat on their own, they will need to be bottle-fed or dropper fed with KMR (Kitten Milk Replacement) while you search for a permanent solution. Click here for information about caring for orphan kittens.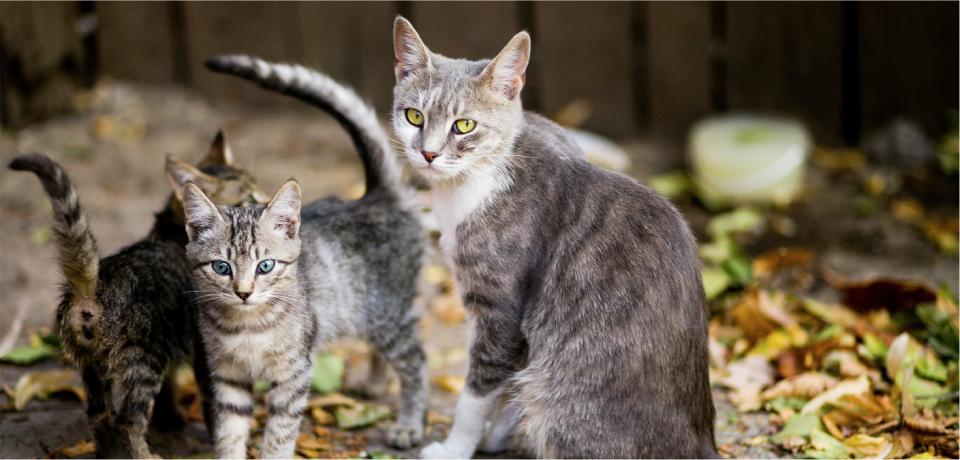 Caring for Orphans and Bottle-Feeding
The one-stop for all kitten information can be found here. If kittens are healthy and 5+ weeks of age, they can usually eat canned wet food on their own. If kittens are younger than 5+ weeks and need a bottle. Aging kittens is the most important factor to determine what kind of care they need. Please look at the aging chart to determine if kittens need a bottle or food.
All kitten supplies can be found at your local pet stores. Petsmart, Petco, Chewy, Walmart, etc., carry bottles and formula.
Kittens can Get Pregnant at 4 Months Old
If you are planning to find them homes yourself – please get them all spayed/neutered and then adopt them out. Please screen adopters thoroughly. Do not give out free kittens on online sites as they are sometimes used as bait, etc. Giving out free unaltered kittens only continues the cycle of overpopulation. The best age to have kittens spayed/neutered is 8-10 weeks (two pounds).
If you need financial assistance in order to get the kittens and mother spayed/neutered, please email us for possible options.
No-Kill Rescues
These rescues are typically run by volunteers, so please be patient when waiting for a response. Most people do not understand the high costs associated with rescue animals' medical care, so please offer as large of a donation as possible to help offset some of the expenses. Always includes good pictures of the kittens, and if possible, offer to be a foster home until the rescue can make space. That usually helps the process along. Large no-kill shelters in Atlanta include Atlanta Humane Society, Furkids, and Paws Atlanta. For a comprehensive list of rescues, please visit www.SpotSociety.org.
If you Cannot Find a Suitable Home or Rescue
If you cannot find placement and you absolutely cannot bring them indoors, it's ok to allow them to live outdoors and feed them while you continue to find a more permanent solution, as long as they have been spayed/neutered by 3 months old. If it is cold outside, they will need a shelter. You can find many options to create safe, inexpensive shelters here.