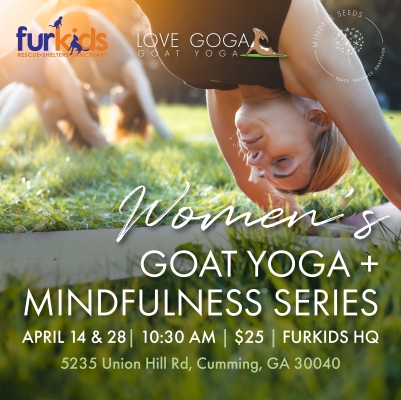 Women's Goat Yoga & Mindfulness Series | April 28
Wednesday, April 28 | 10:30 am | Furkids HQ
Join us on Wednesday, April 28 for the second session of Love GOGA's women's mindfulness series: "Journaling 101" on the gorgeous green at Furkids HQ.
Rejuvenate your mind, body, and spirit with an interactive yoga session alongside the goats from Atlantis Dream Farm, followed by a guided meditation and journaling practice. Learn the benefits of journaling, and receive your own journal to take home! Whether you are a first-timer or have been practicing yoga for years, you will walk away from each session feeling, relaxed, refreshed, and happy.
A portion of all proceeds will directly benefit Furkids Animal Rescue & Shelters.
$25.00 Regular Price